John Robertson
John Robertson - The Dark Room
Multimedia
8:40pm (1 hour)
1-13 & 15-25 Aug 2013
9 - 10
This is a 2013 show that has now finished.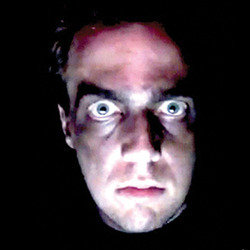 Show details
Multimedia starring John Robertson performed on the following days in August 2013...
| Mon | Tue | Wed | Thu | Fri | Sat | Sun |
| --- | --- | --- | --- | --- | --- | --- |
| | 30 | 31 | 1 | 2 | 3 | 4 |
| 5 | 6 | 7 | 8 | 9 | 10 | 11 |
| 12 | 13 | 14 | 15 | 16 | 17 | 18 |
| 19 | 20 | 21 | 22 | 23 | 24 | 25 |
| 26 | 27 | 28 | 29 | 30 | 31 | |
Venue details
A YouTube sensation comes to the real world! The Dark Room is Earth's only live, interactive video game. The audience is trapped in a dark room - and must escape. All that's stopping you is a floating head, a booming voice and logic. Winners get prizes, losers are punished in the ultimate test of skill, wit and cunning. Unlock the hidden story! Escape The Dark Room! ***** '...if you like your comedy interactive you'll struggle to find better than John Robertson's show' (ThreeWeeks). 'A manic and quick-witted revelation ... ridiculously entertaining' (Scotsman).
Share this show
Reviews
Press coverage
Full press release
Featured in Variety Magazine, Wired, loved by Ian Livingstone (creator of Fighting Fantasy) played by alternative celebrities like Jhonen Vasquez (creator of Invader Zim), Amanda Palmer, Brendon Burns, The Pajama Men and a host of others - The Dark Room is an interactive adventure minus the adventure and replaced with abuse.
Eighteen months ago, Australian stand-up comedian John Robertson posted a choose-your-own-adventure-game on YouTube, entitled The Dark Room. In the video, the viewer is told that they have woken up in a dark room, and have to find their way out - accompanied by some less-than-helpful suggestions from Robertson, spot lit by a torch under his chin.
The various chapters of The Dark Room have been viewed more than 4,000,000 times on YouTube. Nobody has yet made it to the final exit. Online, it has been played in every country on earth, being curiously popular in Germany, France and the U.S. It has been responsible for 70 different death threats in eight different countries.
It quickly went viral due to its relentlessly dark humour, Robertson's outrageously hammy narration, and simple yet genius premise. Inspired by its success, last year he took the premise more than a few steps further, by converting it into a live show at the Free Fringe - in which a whole roomful of
people awake to find themselves... in a DARK... ROOM!
Now he is back, taking this improvised game show, where the player faces a brutal Old Testament God who loves grammar, and hates you, to the Underbelly.
Over the course of an hour, four separate audience volunteers take on The Dark Room, with Robertson acting as some psychotic mix of Chris Tarrant and Brian Blessed. All the lights are down, except for a contraption on his shoulders illuminating his face - until right at the end, the whole audience joins in to see if they can find their way out of the Dark Room together. And we'll give you a clue: chances are they won't.
The Dark Room as a game is like nothing you've ever played before. You'll find yourself apologizing to jealous walls, discussing your childhood, discovering that your pockets are made out of green check material (very poor fashion choice there) or yellow Czech material, weeping, dying (many times), and frequently asking "Why are you being so cruel to me!"
It's deeply surreal and very, very funny. For the vast majority of the show, Robertson will be improvising, and playing off the audience like a man possessed. He's sensational at what he does, and manages to infuse his often deeply insulting patter with enough wit and energy to keep everyone (even those his vitriol is directed at) deeply entertained.
There is only one way to enjoy the Dark Room and it's quite simple. Get involved. Volunteer to play the game, verbally spar with Robertson, scream and shout when he commands you to. This is a piece of interactive theatre; it doesn't work if the audience doesn't interact.
John Robertson looks forward to bringing you this improvised, interactive, multimedia odyssey. It's clever, it's heartbreaking, it's got a story to tell and a challenge to give. Will you escape, intrepid cretin?