John Gordillo
John Gordillo: Cheap Shots at the Defenceless
Stand-up
7:30pm (1 hour)
1-11 & 13-25 Aug 2013
10
This is a 2013 show that has now finished.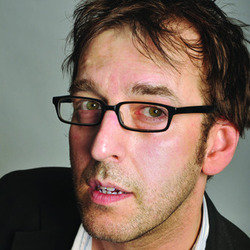 Show details
Stand-up show starring John Gordillo performed on the following days in August 2013...
No Latecomers. Under 14's should be accompanied by an over 16yr old.
| Mon | Tue | Wed | Thu | Fri | Sat | Sun |
| --- | --- | --- | --- | --- | --- | --- |
| | 30 | 31 | 1 | 2 | 3 | 4 |
| 5 | 6 | 7 | 8 | 9 | 10 | 11 |
| 12 | 13 | 14 | 15 | 16 | 17 | 18 |
| 19 | 20 | 21 | 22 | 23 | 24 | 25 |
| 26 | 27 | 28 | 29 | 30 | 31 | |
Venue details
'A grown-up comic who combines emotional intimacy with high quality gags' (Guardian). 'Brilliant' (Scotsman). 'Resolutely acute, relentlessly smart comedy with political hues' (Independent). No reviewers under 21 admitted.
Share this show
Reviews
Full press release
Dear Person. I am a man and stand-up comedian and all-round acquired taste from London. My Edinburgh 2013 show is called Cheap Shots At The Defenceless. It's about love, marketing and showbusiness and how they all feel like the same thing.
HERE ARE SOME BLURBY WORDS THAT ARE ACCURATE AS OF MAY 2013.
Love is everywhere. Global corporations write to me like they're my intimate friends, advertisers bombard me daily with appeals to my emotions and I have recently fallen into unrequited fan love with the singer Dionne Warwick[/i]. Yet I cannot quite break through to my daughter.
In the last 12 months, I've become a full time parent to an 18 year old girl. She's the daughter of an ex and now she lives with me, It's been difficult at times but I'm pleased to say that we've managed to forge a relationship that's both financially-draining and emotionally-constipated.
I will be attempting to make sense of this contradictory situation with jokes.
A NOTE TO PRESS AND AUDIENCES BUT MAINLY PRESS
I'll be delighted if anyone comes to this and if you're age 15 or over you're welcome and thank you. But if you want to review the show, you must be at least 21. This isn't a joke; it's a gimmick. Some of the criticism you see during Festival time is beyond stupid. It's not that I think older people will like my schtick better. It's meant as a small step towards filtering out the truly inchoate - and if you had to Google that word, sorry, but you're not ready to review a show.
THE OTHER THING...
...of potential interest re: me is my backstage presence as director & script editor of shows and comedians on tour. Among these are: Reginald D Hunter, Scott Capurro (I have a hand in his new show Islamahomophobia, which is terrific, as is he), Michael McIntyre, Shappi Khorsandi, Seann Walsh, Josh Widdicombe, Dara O Briain, Eddie Izzard, Ruby Wax, Shazia Mirza, the list is now too obscure to continue.
I'm also directing Reginald D Hunter's new DVD for Xmas 2013 release and co-writing a feature with him which we will make ourselves, independently, on a befittingly tiny budget.
---
Tweets by JohnGordillo