Festival of the Spoken Nerd
Festival of the Spoken Nerd - Full Frontal Nerdity
Stand-up
6:10pm (1 hour)
31 Jul; 1-13 & 15-25 Aug 2013
12 - 10
This is a 2013 show that has now finished.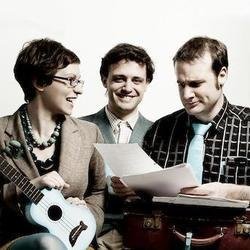 | Mon | Tue | Wed | Thu | Fri | Sat | Sun |
| --- | --- | --- | --- | --- | --- | --- |
| | 30 | 31 | 1 | 2 | 3 | 4 |
| 5 | 6 | 7 | 8 | 9 | 10 | 11 |
| 12 | 13 | 14 | 15 | 16 | 17 | 18 |
| 19 | 20 | 21 | 22 | 23 | 24 | 25 |
| 26 | 27 | 28 | 29 | 30 | 31 | |
Venue details
Sci-curious comedy for the fearlessly inquisitive. Stand-up mathematician Matt Parker (Things You Need To Know, BBC2), geeky songstress Helen Arney (Infinite Monkey Cage, BBC Radio 4 ) and experiments maestro Steve Mould (Britain's Brightest Street Scientist, BBC1) bring you Full Frontal Nerdity with live experiments and unashamed geekiness. Joyous, anarchic and exponentially entertaining - Nerd is the word! It's time to get your geek on. 'Charm and perky curiosity is in its DNA' (Guardian). 'Wonderfully witty' **** (Chortle.co.uk). 'Harnesses comedy to highlight what is fun - and funny - about science' (New Scientist).
Share this show
Reviews
Press coverage
Full press release
Following the success of their live shows across the UK, Festival of the Spoken Nerd return to the Edinburgh Fringe Festival with Full Frontal Nerdity - a brand new comedy show for the insatiably sci-curious combining sparkling wit and fascinating science, music, maths with live experiments.
Festival of the Spoken Nerd brings together three of the UK's best (and nerdiest) performers. They are experiments maestro Steve Mould (Britain's Brightest Street Scientist, BBC One), stand-up mathematician Matt Parker (Things You Need To Know, BBC Two) and geek songstress Helen Arney (Infinite Monkey Cage, BBC Radio 4).
Exponentially entertaining, unashamedly geeky and fearlessly inquisitive, Full Frontal Nerdity will tackle some of life's big questions. Join them to ask: Are bees better than humans? Could we be living in a computer simulation (of a computer simulation)? And will technology ultimately be the end of us all?
Festival of the Spoken Nerd have performed at venues across the country, from sold-out shows at London's Bloomsbury Theatre and Shakespeare's Globe to The British Library, Udderbelly Southbank, Hammersmith Apollo, Theatre Royal Haymarket, TED and the Institute of Contemporary Arts. In 2012 their first tour took the UK by storm, and they'll be back on the road in January 2014.
Who are the Spoken Nerds?
Steve Mould - experiments guy & TV science expert - http://www.stevemould.com/
From mind-bending tricks as the Street Scientist on BBC One′s Britain's Brightest to dismantling a child's robot to make it talk backwards "like the devil", Steve's scientific interests are unfettered by the limitations of specialism. On any given day, Steve might be leading a dubstep subatomic particle safari putting nail varnish on a pineapple (for maths) or dressing up as a Lego man (also for maths). Maker of mathematical curios, creator of illusions and writer of long and overly technical blog posts, he also used to be on Blue Peter (back in the day) and won't stop going on about it.
Matt Parker - stand-up mathematician - http://www.standupmaths.com/ Possibly the only person to hold the prestigious title of London Mathematical Society Popular Lecturer while simultaneously having a sold-out comedy show at the Edinburgh Festival Fringe, Matt is always keen to mix his two passions of mathematics and stand-up. Matt Parker appears regularly to talk about maths on the radio and TV (Discovery Channel's You Have Been Warned, James May's Things You Need to Know) as well as contributing to the Guardian and being all over the internet. Matt's favourite number is currently 3435.
Helen Arney - musical comedian and geek songstress - http://helenarney.com Thinking that she'd left her geeky past behind after graduating in Physics from Imperial College, Helen proved herself wrong when she started writing comedy and songs inspired by science. Since touring the UK in Uncaged Monkeys with Robin Ince, Professor Brian Cox and Tim Minchin, her songs have popped up on BBC Two, Channel 4, and BBC Radio 3, 4, 5, 6 and World Service. She's performed her award-winning 2012 solo show Voice of an Angle at the Edinburgh Fringe, London's Soho Theatre and Norwegian Science Week. Helen also presents the science bits in You Have Been Warned for Discovery Channel and appears in the second series of Stewart Lee's The Alternative Comedy Experience on Comedy Central. Helen will also be performing in Domestic Science on PBH's Free Fringe throughout the festival.
---
Credits
Tweets by FOTSN