How To Save Money At The Fringe
Former millionaire Uncle Henry explains how to do Edinburgh on a budget...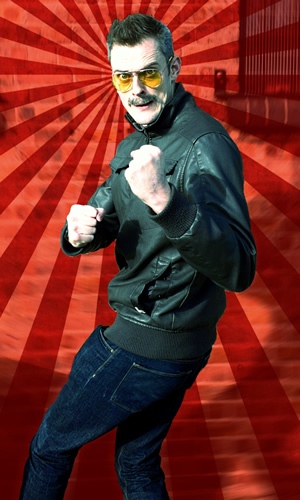 People are always asking me: "How can I have fun at the Fringe without breaking (into) the bank?" Having made and lost huge fortunes, I'm an expert at living a champagne lifestyle on a lager budget. Here's my top tips:
Places To Stay
Before the recession hit I used to stay in the Radisson. Now, like many other visitors to the city, I choose to sleep in a bin. A penny saved is a penny earned!
The bins get pretty crowded in August. Try to find a large mixed recycling bin and avoid sleeping in food waste (see 'Places to Eat'). And don't forget the golden rule - never sleep in on rubbish collection day!
Things To See
In August there are a lot of great shows, but if you can't afford to see them, don't worry! There are plenty of free productions out there in the streets of Edinburgh.
At lunchtime in Nicholson Square, there is a show called Toddlers throw Plastic Bottles at Pigeons. The cast size varies but there is real joy in the performance.
In the afternoon, I recommend the Edinburgh Lament, a tragic monologue. To hear it, just ask any resident how the city's tram system is coming along. A harrowing forty-five minute piece.
In the evening, the free-flowing booze and steep roads of the old town are the perfect setting for the slapstick comedy Men Fall Down Pavements. Open auditions, all welcome.
Places To Eat
Eating on a budget in Edinburgh is possible!
The Fudge Shop has free samples. Lidl has insufficient security. Both are good for a quick snack.
When trying the local food, beware the Lorne sausage, which is like a normal sausage that has had a nervous breakdown. Don't eat it unless you want the same to happen to you!
Going Out
I love to have a drink with friends. It used to be be champagne cocktails at the Ritz. Nowadays, I go to Wetherspoons and, when it's my round, I hide in the toilet.
Whilst you're out, you may see some rich people. They are probably covered in diamonds, drinking champagne, and being rude. Just remember: this could be your life one day!
The first step is to come to Uncle Henry's Happy Hour: it's my free investment seminar: every night I teach the audience to think like, become, and live like millionaires.
Bring yourself, your bank details, and any unwanted gold to the Dram House, Sneekit Room, 10:15pm every night until the 25th. Remember - failure is the first step to success!