Sarah Millican to judge 'So You Think You're Funny?' final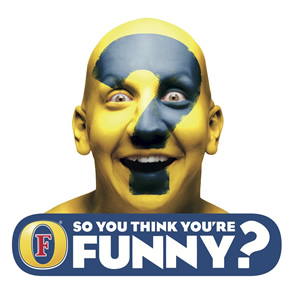 This Thursday (22nd August), nine of the country's most promising up-and-coming comedians will go head to head in Edinburgh in a battle to win the Foster's So You Think You're Funny? stand-up competition.
The prestigious competition, which has run since 1988, is well regarded in regards to spotting future comedy stars. Many of the competition's previous finalists have gone on to have full-time comedy careers. Previous winners include Peter Kay, David O'Doherty, Lee Mack, Miles Jupp and Dylan Moran. Last year's winner, Aisling Bea, is currently picking up great reviews at the festival for her debut show, C'est La Bea.
It was announced today that this year's celebrity judge will be Sarah Millican, and the live show will be hosted by Zoe Lyons.
The competition is organised by the Gilded Balloon venue, and organisers visited Birmingham, Brighton, Bristol, Dublin, Glasgow, Inverness, Leeds, Leicester, London, Manchester and Newcastle in advance of the festival to find comedians. The shortlisted acts have performed at heats during this year's festival, with the final nine now fully selected.
The organisers say: "Twenty-five years after So You Think You're Funny? began hunting for the country's best comedy newcomers, the competition is still fresh thanks to the high calibre of comedians it attracts. Aimed at discovering the stand-up stars of the future, it has established itself as one of the most prestigious Edinburgh Festival Fringe stand-up comedy competitions."
Each act will have eight minutes to impress the judges. This year the panel is comprised of Karen Koren (Gilded Balloon), Angela Robertson (Universal), Susan Provan (Melbourne Comedy Festival), Zoe Rabnett (Just For Laughs), Helen Hawkins (The Sunday Times), Bruce Dessau (Evening Standard) and Sarah Millican.
The selected winner will not only take away the coveted title but will also receive a £2000 cash prize and a trip to perform at Montreal's Just For Laughs Festival.
Below are the names of the nine comedians taking part, with biographies as supplied by the comedians themselves...
Alasdair Beckett King: Alasdair is a filmmaker and animator who started performing stand-up comedy to learn how audiences engage with storytelling. It hasn't helped at all and it's made it much harder to explain the lack of career progress to my dad. I mean his dad.
Jenny Collier: Jenny recently moved from the Welsh Mountains to embark on a career in stand up in the Big Smoke. Highlight: 500 people cheering her through to the final of a Laugh Off competition. Low point: After a gig, an audience member saying 'You should be a stripper'. (Both secretly highlights).
Edd Hedges: Hello! Nice to meet you. I'm Edd, I'm from Essex (the nice part) and I spend most of my time in London talking to strangers, which I was warned not to do as a child, but has now gotten me to this competition. Next up, get in a strangers' car!
Demi Lardner: Comedian, writer, jungle cat fighter. Demi grew up in constant fear of birds, but also Modbury Heights, Adelaide, South Australia. Demi got onstage at age 16. Since then she has won the 2013 National RAW Comedy Competition, the Adelaide Comedy's Rising Starr Award for Best Newcomer and Bank SA's Best Emerging Comedy Show in Adelaide Fringe 2013 for the production of Wolf Creek, the Musical (co-writer).
Andrew McBurney: Since his first show at a Black Country open-mic spot, Andrew McBurney has swiftly gained a reputation across the country as an astonishingly original comedian. With pitch-perfect delivery, his semi-character based "melancomedy" finds belly-laughs in the bleakest of places. Andrew won "best newcomer" and "best joke" at the West Midlands Comedy awards and was a Laughing Horse New Act finalist after just a few months of performing.
Laura Mclenaghan: Laura did her first gig in a room above a pub in Manchester, performing to 3 people if you include the MC and promoter. She is now based in London where she regularly performs to an average of 16 people if you include the MC and the 15 other comedians.
Russ Peers: Russ first realised he could get laughs when he stole his cousin's jokes. Just 30 years later he's on stage with his own jokes and people laughing. He's Northern and an optimistic pessimist so assumes these are pity laughs. Russ's conversational style has been described as 'lovely'. He, however, is not.
Nicky Wilkinson: Nicky is a bright and quick-witted Hullonian. Her warm, likeable, down-to-earth style instantly puts audiences at ease. Her comedy mixes charming, real-life anecdotes with just the right dose of self-deprecation and often brilliantly funny improvised riffs with the crowd.
Tom Taylor: England born Tom Taylor is one half of the musical double act, Tom Taylor and his Casio Orchestra. Having progressed one stage, SYTYF is comfortably Tom's most successful new act competition campaign.