Si Hawkins' Fringe Diary, 2013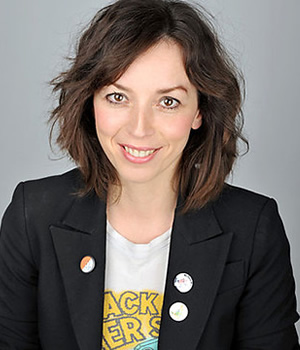 And so, my Fringe 2013: lots of impressive, innovative comedy, plus a few too many blokes just rambling on in an undistinguished fashion. I definitely sensed a bit of an audience backlash against straightforward stand-ups this year, if not in attendance figures then certainly during post-show and around-town conversation.
Perhaps all the endless digital reruns are causing a bit of fatigue, or there are just more (particularly male) comics heading up with slightly half-arsed shows in the hope of getting their one good routine on the box somewhere; let's blame telly, either way. But, hey, enough of the negativity, Edinburgh resounded with great stuff too, kicking off with an early double-header at The Stand.
The show from Bridget Christie (pictured), A Bic for Her, is an absolute bloody triumph. Standing-room only when I saw it, despite the 11.10am start, the title refers to that company's decision to release a pen specifically designed for women (presumably inspired by their success with segregated disposable razors). Christie takes great exception to this via a memorable bit of physical comedy, one of several grand visual gags along the way. Modern feminism is addressed more seriously later on, but the first half features some of the best set-pieces you'll see this year, particularly a lengthy and laudably nasty bit about Stirling Moss that has the place in fits. Christie is just a naturally funny human. And obviously the Gloucester accent doesn't hurt.
Bridget has taken after Tony Law in the early-show-at-The-Stand stakes, although both have notably moved from the tiny wee cupboard they were in a couple of years ago, to the main Stand room now familiar to fans of The Alternative Comedy Experience. Law strides in at lunchtime, model planets in hand, which he proceeds to affix to the ceiling before embarking on his ramshackle musings. There's an interstellar theme, not that he sticks to it, and actually much of this show is mired in the mundanity of everyday life, generally kid-related. Nonsense Overdrive is not quite the gasp-inducing genius of old, but you still can't take your eyes off the lunatic lumberjack, and the ending is an absolute treat.
Two very different shows by London-based Irish comics. Fringe favourite Jarlath Regan (pictured) has only recently taken the plunge and left cash-strapped Dublin, and his seventh Edinburgh show, Djarlo Unchained, is all about that big move; well, it uses it as a useful starting point anyway. This is a thoroughly agreeable way to spend an hour. His Assembly Room is absolutely lush (although the wideness took him a while to get used to, apparently), there are some nice screen-based sections to keep things fresh, and his interaction is fairly unique, given that he flyered half the audience personally. You probably don't need me to plug this, in fact, as he does it perfectly well himself.
Sean Hughes' new show is a very different kettle of fish, quite impressively intense and clearly not everyone's cup of tea, given several walk-outs along the way. Always a good sign, that. Penguins is how you'd imagine the much-missed Sean's Show would turn out if Channel 4 commissioned him to do it now, as the 47 year-old trawls through his schooldays, holidays - and utilises some intriguing props - to chart the making of the man who stands before us. The show becomes more passionate monologue than stand-up late-on, as he strides stage-front, in his rather unflattering black smock. Hughes is in peak form, if not peak fitness.
Next, a couple of shows attracting ticket-buyers from beyond the stereotypical Fringe audience. Humza Arshad's Diary of a Badman is the stage version of the hit web sitcom - although 'hit' is hardly a strong enough word for the millions of global views he gets. 'Phenomenon' would just about do it. The Gilded Balloon's Wee Room seems a slightly inapt location, then, but he revels in the intimate setting, jocularly chiding latecomers and bouncing off the varied demographic who've pitched up. Arshad is a captivating performer, all squeaky voice, mock bravado and some surprisingly sprightly moves. Some of it went flying over my head, admittedly, but equally there are topics and situations here that you won't hear anywhere else on the Fringe. It's a refreshing antidote to the some of the lazier stand-up being peddled elsewhere.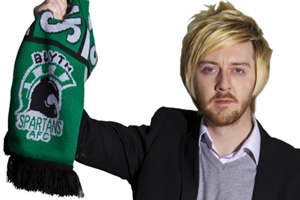 Also trying something new is Geordie comic Tony Jameson (pictured), who has boldly gone where few comics have gone before: a show about football. Actually the show is about his obsession with a computer game (Football Manager Ruined My Life), and it's good to see him go the whole hog with it. I was expecting the computer stuff to give way to more widely accessible material, but no, there are geeky gags about both football and the game throughout, and he's selling out most days. The football material is pretty sharp, too - you have to know your stuff when you're preaching to the converted.
Reginald D Hunter probably won't be going to see that one, given his recent dealings with the beautiful game. The first section of Reg's often painfully funny show, In the Midst of Crackers, deals with his headline-grabbing performance at the PFA Awards, and he proceeds to rattle through a potent, often personal array of subjects, from (not very) romantic relationships to fraught trips back home to visit the folks. This is an awe-inspiring hour, presumably edited down from the recent tour show, and it's a treat to see him defy Fringe convention and actively overrun. Filling the hefty Pleasance Grand for a couple of weeks, he can afford a fine or two.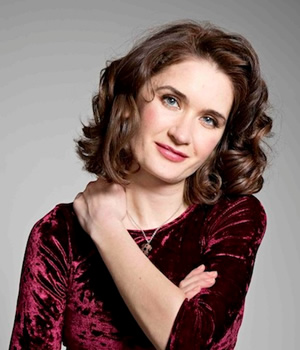 Almost matching Reg for gasp-inducing frankness is Nat Luurtsema (pictured), surprisingly. Stars of the sketch troupe Jigsaw, she and ex-boyfriend Tom Craine got some novel pre-Fringe coverage due to their rival shows about their break-up (not that Craine's is specifically about that, but it made for a good story). Nat takes self-deprecation to new levels in Here She Be, with some staggering stuff about her sexy dad, untimely bodily functions, a swallowed barstool and the best gag I heard at this year's Fringe, in fact, which involved her lady areas and dead children. Probably not one that's going to be nicked by McIntyre's gag writers, no.
Luurtsema is one of numerous established acts doing free shows this year, many of them at The Counting House's four fine rooms, although actually getting into the more popular ones can take some queuing. A good alternative is Twice as Nice at Dropkick Murphys, which is a bit of an undiscovered treasure. It features four varied Fringe acts doing their best 10 minutes every evening, with the likes of Patrick Monahan, Carl Donnelly and Eric Lampaert having headlined so far, while I caught hugely impressive sets by Michael Fabbri, Ellie Taylor and Benny 'The Human Jukebox' Davis. It being hidden down a backstreet, you can usually be assured of getting a seat.
Other highlights? I won't bang on about the shows I've reviewed elsewhere, but can heartily recommend the brilliant newcomer Joseph Morpurgo, in-your-face veteran Ian Cognito, a lovely hour from Max & Ivan, and, of course, Adam Buxton's Kernel Panic, although he only did a couple of days early doors. And what an awfully long time ago they seem.