Richard Herring swaps posters for DVDs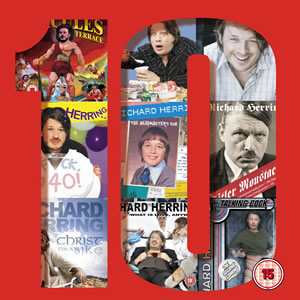 If you visit Edinburgh during August you'd perhaps be forgiven for thinking the city's buildings are made of paper, as every surface is covered in a poster promoting a Fringe show.
This form of advertising is not cheap, and there is some debate about how effective a form of marketing it is anyway. Richard Herring has decided to opt to do something a bit different.
This 2013 Edinburgh Fringe sees Herring putting on his 10th different solo stand-up show in a row, and thus to celebrate this landmark he has spent the money he would normally have put into a poster campaign into making a free DVD instead.
He is giving everyone who attends his show (We're All Going To Die! at the Pleasance Beyond) a free 90-minute DVD called 10, which is made up of his favourite routines from the previous nine shows, plus his thoughts on each show and an exclusive reading of a blog that inspired the new show.
The DVD includes the routines "Someone Likes Yoghurt", "Valentine's Day Ferrero Rocher", "Why Liberals Are More Racist Than Racists" and "The Deconstruction of the Genealogy of Christ".
Herring explains his motivations as follows: "It's partly just that it seems like a nice idea to give my audience a present and thank them for the support they've given me over the last 26 years in Edinburgh. But the other impetus was discovering that it cost me £3000 to put up big lamp post adverts. Posters like these are so ubiquitous that I don't think they have any impact anymore. And they're all covered in four and five star reviews, which are usually from some obscure website or paper which isn't fooling anyone.
"If we all stopped doing it then we'd save a lot of money. I thought, this year why not spend this £3000 on something that people might actually want and give a gift to the people who actually want to see me rather than create an eye-sore annoyance to people who don't? I think we're throwing our money away and if other acts have three grand to spare for PR, then there must surely be more imaginative ways to spend it. Or they could just keep the £3000."
On the topic of costs, he adds: "Every Fringe many acts pay thousands of pounds to landlords, promoters and PR firms and end up in serious debt. It seems a shame that advertising costs are also so high, especially when the Fringe brings so much revenue to the city already. It might be time for a journalist to investigate where the money from the various poster campaigns go and what the Council's part in it is."
Richard explains more about his motivations in this video:
If you're not visiting the Fringe but still want to get hold of a copy of Richard Herring's 10 it is worth noting that, at the time of writing, distributors Go Faster Stripe have a limited number of copies of the DVD to buy online