Red Bastard gets a rainbow of stars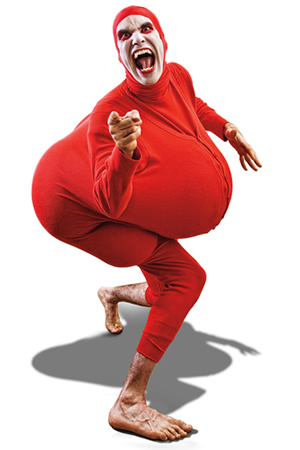 No two people have exactly the same tastes when it comes to what makes them laugh, but it's certainly the case that some live comedy shows that exist on the edge of the genre can divide opinion more than others.
This year, Red Bastard, the interactive comedy show currently at the Fringe playing in Assembly George Square, has a particularly notable spread of reviews. It is the first comedy show this festival to obtain a five star review, a four star review, a three star review, a two star review and a one star review. A 'review rainbow', or 'rainbow of stars', as this is known is a notably rare occurrence.
Created by and starring the award-winning American clown Eric Davis, Red Bastard is focused around a unique looking 'exquisite monstrosity' of a character who gets very interactive with his audience. The show has already been a hit around the world, but it seems it is not to the taste of all the reviewers at the festival, with ThreeWeeks giving the show just 1* and The Times awarding it 2*.
The good news for Davis is that more critics do like the show, and Red Bastard has at the time of writing collected an impressive six 5* reviews too. See the show's listing to view all Red Bastard reviews
BCG is highlighting this spread of opinion to help further emphasise the point that members of the public should never rely on just one review in the process of deciding whether to see a show or not. This website uniquely collects up all the reviews from all the publications to help comedy fans see the general consensus instead - to find all the reviews for any show search our listings
Eric Davis is no doubt quite happy with how his festival is going, with further reports of people changing their lives as a result of seeing Red Bastard. The show, which encourages "risk and personal discovery" has, in the past, resulted in people quitting the jobs they hate, proposed marriage and making other life-changing decisions.
The below video, filmed earlier in the festival, features an interview with Davis and footage from the show:
[i]Red Bastard is on until the 26th August.