Peacock & Gamble interview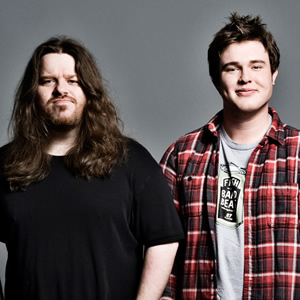 Lovely lads Ray Peacock (left of photo) and Ed Gamble (right of photo) are performing together for a third year at Edinburgh Fringe with their new show Heart-throbs. With sell-out performances within the first week causing extra shows to be added, this double act are certainly one to watch. Here Lucy Anna Gray finds out more about the duo.
How is Edinburgh Fringe 2013 going so far?
Ed: We've not been out and about much, but we're really enjoying it so far. We haven't seen hardly any shows yet.
Ray: Yes and I've not seen hardly any of our show... 'cos I'm in the middle of it.
So it's a happy Fringe so far?
Ray: The only time we're unhappy in Edinburgh is when we don't sell tickets. It literally begins and ends with that. If there are people there on the night and most of them are there at the end, then we're happy with that. We had one couple that walked out at 46 minutes the other night. Over the years we have worked out different ways of dealing with a walkout, but we were stuck in a moment... the most ludicrous point of the show. They clearly thought enough is enough.
Ed: If you don't get it [the show] or you're not keyed into it, I can imagine how frustrating it is to hear people laughing around you.
Ray: We went through a period when we got quite angry at people who actively didn't like us because we thought 'how can you be angry at these boys?!' They're such underdogs and they're not doing anyone any harm at all. Increasingly, we've just accepted that some people will absolutely love us, and others will absolutely hate us. As soon as you accept that and realise that it's out of our control... as long as they're not too disruptive when they leave... on their own head be it!
Why do you think sometimes people do take a dislike to you?
Ray: My theory is that people get angry when they see us on stage and they think 'this isn't on. No one can do this as a living. THIS is someone's job. I couldn't even have that hair at my work... not that I'd want it.'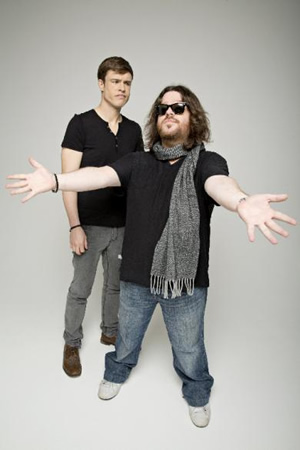 But it's not all negative, is it?
Ray: I think it's very much the comedic mind-set. For example on iTunes all our comments started afresh for this Fringe. 90 people loved it and one person hated it, and you really hone in on that one person. They said we 'spend too much time laughing at each other.'
Ed: These two are friends. This annoys me.
Ray, do you ever find it difficult juggling the podcast and the show?
Yes, because the podcast isn't an easy thing to put out. I could probably spend half the time I do on it, but I like to get it right. Invariably, because we're doing extra shows, it becomes a 4 o'clock in the morning job. I only saw one and a half shows last year.
Ed, do you get to see many shows?
Ed: I used to, but after the past couple of years at The Fringe I haven't. I think you've just got to focus on your own show. If later on I feel comfortable and happy with our show, then I'll go see other things.
Ray: I think it's because, when we started working together, I was already a professional comic and Ed had been at university. When he started working with me he went from being a student into being a professional comic. He still had the student ethos of going to see all of the shows, where as I was already at the point where I felt that I was there to work. We're at the Fringe to work, not to enjoy ourselves. I think comics who forget that, it sometimes trips them up. They go out on the piss, on the stage pissed... it's costing us £400 a day or something stupid like that!
Ed: Now I enjoy having a 'home life' and not engaging with the Fringe, and having a routine. We don't get that at home. It's nice doing a show in the same place every night.
Ray: It's good for the soul as well, but it is knackering. There's no way around that. People say 'you only do an hour a day!' I fucking don't! I promise it's hard work! I'm on the whisky at this point!
Ed: He's SO pissed right now. We only tend to talk about that about half way through at the intervention...
Is the stage name 'Ray Peacock' a problem?
Ray: It's increasingly a problem, yes. I first changed my name to Ray Peacock [from Ian Boldsworth] when I was doing a sketch show with John Williams. I thought that was a good name for a Yorkshire shouty bloke character - we got the name from a real person.
At that point, people wouldn't have dared make a joke about rape. It certainly didn't occur to me, and it didn't for 5 years including two Edinburgh Fringes. With the unfortunate emergence of rape culture and comedians ending a joke with 'and I raped her', it just became a thing of 'brilliant joke name'. It's a very frustrating thing. It's a weird thing because I honestly think, in my entire life, it's the only thing I don't have a sense of humour about. It upsets me so much and it's really boring. It makes me angry on a level that I can't even put into words.
Ed: The thing is though, what no one has spotted yet is that 'Edgam' is Swiss for old lady's fanny.
What is your plan after Edinburgh?
We're doing a short tour in November. Last year we toured from September to June, which is stupid. Now we're touring October-November with a couple of other shows scattered around. It'll be like another Edinburgh in October.
Do you have a favourite venue or area on the circuit?
Ed: Touring as a double act, we really enjoyed The Stand in Newcastle last year. The Lowry was really nice, and I liked that little room in the Komedia in Brighton. We have a weird, sort of cult fame. At this venue 8 people turned up and one of them had a homemade Peacock & Gamble t-shirt. I think that sums up out fans.
Ray: Then the following year it was about 50 people. When we had that 8, we'd had 3 sell outs previously, so we were like, 'Oh! We're a successful tour act, we're building up a proper following! The podcast has paid off... oh there are 8 people...'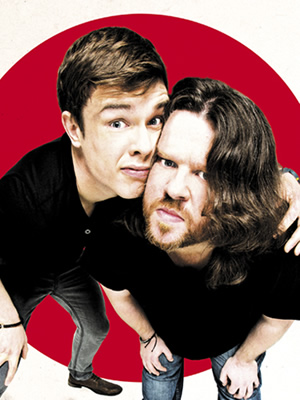 Your Edinburgh show is pretty loud...
Ed: Yes, it is quite a loud show. If you're sitting in the front row and then you're confronted by that [Ed points at Ray] it is pretty scary.
Ray: It's got to be loud. I wouldn't say we shout from beginning to end. The moments when we aren't shouting are by design, so that when we have our quiet moments, they sound so quiet and so sincere. It really focuses that moment and you think, 'Wow, that bloke was running around with his trousers down a minute ago'... and then I cry. It catches them off guard.
Ed: Also the show has to be loud this year because, above us, is a monologue about Glasgow rave culture in the 1980s with two live DJs. So if it sounds like we're shouting a bit too much in the show, it's because we're trying to cover up house music.
Are you two good friends in real life? Are you living together in Edinburgh?
Ray: We always do in Edinburgh. We decided to live just us two this year [rather than with other acts] because it makes things easier. Plus it would be quite unfair to another act to be there with all the tech for our podcasts. We do keep ourselves to ourselves a little bit... you do withdraw out a bit to get some sort of sanctuary.
We are good mates; I don't know how you couldn't be in a double act. I know Bobby Ball quite well, and for about four years Cannon & Ball weren't talking to each other at the height of their fame. Yet on stage, they're laughing at each other, corpsing, and it's definitely not faked. It's amazing to me that they were walking on stage, into separate dressing rooms, into separate cars and only talking to each other through other people. I know when we've had little tiffs in real life, it never lasts long. To actually fall out is insane...
Ed: We don't talk massively throughout the day, so when we go on stage it's great fun.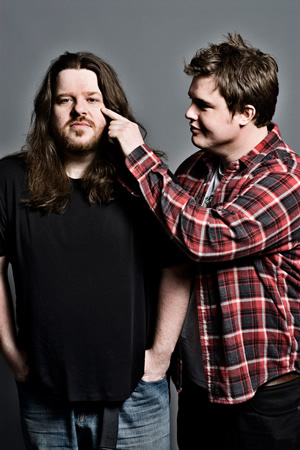 Ray: In our shows and podcasts we're big on what it means to be friends with someone. This show is particularly focusing on that and how different things affect friendship. So there is a bit of heart underneath it, for all the shouting and idiocy... of which there is lots. I mean really, it's 90% utterly asinine. Yet there is also a sincerity to it, which is where I think the podcast does well. We address serious moments well and people think, 'oh, this isn't as stupid as it seems.' Amongst all the idiocy on the podcasts, we do wear out hearts on our sleeve.
Is your writing collaborative?
Ed: It's a real mix. In the build-up to Edinburgh we write two separate scripts and put them together in one document, semi learn it, go and do a preview and make the whole thing up. So we have a loose structure for it, but a lot of it comes on the stage.
Ray: What I tend to get from Ed are complete scenes. We'll slightly overwrite so we can later chop it down. And then, quite frustratingly for Ed, I will not learn it. I'll learn a chunk of it, but I won't learn the words. Although Ed's writing is exceptional.
Ed: It's an amalgamation of both the script and the improvisational element. Last year's show in particular just came from what Ray does at home. There was a whole thing about him going to the fridge, taking a bite out of some food, leaving it in the fridge, and putting a rubber duck next to it and saying the duck did it.
Ray: I still do that. Duck in the fridge all the time. I think the overall feeling is I'm just a fun bloke and why not share that with all the ladies and gentlemen.
Ed: Yes, why should only I get to see it? Let's spend thousands of pounds letting increasingly frustrated strangers watch you!
---
Note: this interview was conducted before Ray had a trip to the hospital so no mention of that above. Luckily he's recovered and the show goes on. Heart-throbs is at 9:45pm at the Pleasance Courtyard until 24th. Listing
To find out more about Peacock & Gamble and their podcasts visit www.peacockandgamble.com. For those not in Edinburgh, there are still tickets available for their short tour later this year.