Al Lubel and Danny Ward win at Amused Moose Laughter Awards 2013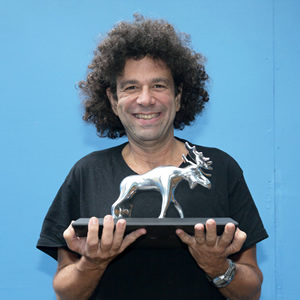 Al Lubel and Danny Ward have been named the winners of the Amused Moose Laughter Awards 2013.
American comedian Al Lubel (pictured), who quit his career as a lawyer to become a stand-up comedian, is performing a show at the Edinburgh Fringe called Al Lubel is Mentally Al. Speaking after the results were announced, he commented: "I'm happy, thank you. I'm pleased the Moose was amused. My low self-esteem is going to have a bit of problem with this."
The final took place Edinburgh City Nightclub this Sunday (18th August), with the top ten shortlisted comedians each performing a 10 minute set taken from their Fringe show. The event was hosted by 2012 winner Marcel Lucont, with a special guest performance from the 2011 winner Tony Law.
The results were based on an audience vote, with the backup of a select band of comedy industry judges ratifying the audience decision.
The Amused Moose Laughter Awards were setup in 2011 to act as a senior strand to the long-established Amused Moose's new act competition. The Laughter Awards involves established comedians at the festival who are deemed 'undiscovered' because they don't yet have a DVD deal. Comedians apply to take part in the competition before the festival, with an industry panel then watching the shows online and then live at the festival to determine the top 10 to perform in the final.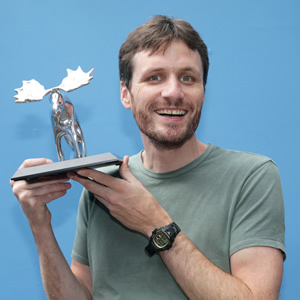 Danny Ward (pictured), who is performing a show called Pressure Point as part of the Laughing Horse Free Festival, was named the People's Champion. He says: "I didn't know there was a People's Champion so this is a fantastic surprise. I don't know how I'm going to get my Moose trophy home on the train!"
Lubel and Ward share the grand prize of £5000 for the development of their comedy careers, plus win a commercial-standard DVD recording and take home a shiny moose trophy. The prizes were presented by Kath Mainland (CEO of the Edinburgh Fringe) with Michael Pugh from sponsors BBC Worldwide.
Al Lubel is performing his show at Just The Tonic until the 25th August, and Danny Ward's show is at The White Horse until the 25th August. The comedians will then perform their full shows as part of the Amused Moose Comedy Awards Showcases at London's Soho Theatre in the September/October season, along with runner up John Luke-Roberts.
The other acts taking part in the final were Luke Toulson, Martin Mor, Jonny & the Baptists, Mae Martin, Milo McCabe, George Ryegold and Nathaniel Metcalfe.
Information about entering the 2014 awards will appear on AmusedMoose.com/Awards at the end of the year.