David Mills
David Mills: The Gospel Truth
Stand-up
5:30pm (50 mins)
1-13 & 15-25 Aug 2013
5
This is a 2013 show that has now finished.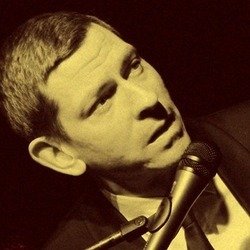 Show details
Stand-up show starring David Mills performed on the following days in August 2013...
| Mon | Tue | Wed | Thu | Fri | Sat | Sun |
| --- | --- | --- | --- | --- | --- | --- |
| | 30 | 31 | 1 | 2 | 3 | 4 |
| 5 | 6 | 7 | 8 | 9 | 10 | 11 |
| 12 | 13 | 14 | 15 | 16 | 17 | 18 |
| 19 | 20 | 21 | 22 | 23 | 24 | 25 |
| 26 | 27 | 28 | 29 | 30 | 31 | |
Venue details
Two parts Dave Allen to one part Rev. Billy Graham makes David Mills and explosive comedic personality. In the Gospel Truth, Mills is possessed by the spirit for a hilarious comedy revival meeting. Expect droll, stylish stand-up and inspirational rants. Mills dissects celebrity, relationships, politics with cutting accuracy. Sharp-tongued cocktail swagger plus fire and brimstone equals an hour of caustic comedy. 2011 Hackney Empire New Act of the Year and opener for Scott Capurro and Margaret Cho. 'David Mills is heading for the big time' (Time Out). 'Caustic, controversial and politically incorrect' (ThisIsCabaret.com). @DavidMillsDept, www.itsdavidmills.com
Share this show
Reviews
Video
---
Tweets by DavidMillsDept
Visitor reviews

GirlwithEdinburghTattoo
Day of comedy was going so well, could it get any better? Well, astonishingly, it did! Went to see David Mills - The Gospel Truth at Heroes @ the Hive (5.30pm). The venue is yet another sticky-floored nook of the whole Cowgate underground network resurrected from olden times to house present day entertainment whilst cleverly managing to maintain that filthy, urine and beer sodden historical detail - lovely! Mr Mills starts by making reference to said surroundings - 'Breathe it in, breathe it in...' And what follows is just under an hour of deliciously waspish, bitchy and just ever so slightly camp humour. The image is sharp-suited, clean-cut, American evangelist but the comedy is full blooded drag-queen with added depth. Topics included why does David Bowie keep on bothering us with his latest artistic endeavours, the intricacies of how Elton John and David Furnish 'fathered' their children and the problems of employing political correctness when you're part of a trans-sexual, trans-gender, inter-species three-way marriage!! As is usual with a Fringe show in the afternoon the audience is smallish but that works well in this case as intimacy is the key with the front row just inches away from the host, perching early Dave Allen style on a stool. Everyone comes in for a bit of light ribbing leading in with topics like Scottish independence (launching into a hilarious routine about a messy, expensive divorce with Wales as a layabout child) and when it's generally time to stop and take a good long look at what our lives have become.('De-clutter, de-clutter') OK we're maybe getting a bit deep here but like with all great comedy David Mills has that edge of pathos which draws you in before delivering the sucker-punch. This man is solid gold and I can't urge you strongly enough to go and see him. And I know the phrase: 'Go and see him before...' is getting a bit shop worn but it couldn't be more apt in this case as I'm pretty sure David Mills would just not be the same in (mercy!) a stadium gig or on TV.