Chris Coltrane
Chris Coltrane: Compassion is Subversive
Stand-up
3:30pm (1 hour)
3-12 & 14-24 Aug 2013
Free
This is a 2013 show that has now finished.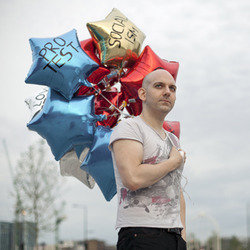 Show details
Stand-up show starring Chris Coltrane performed on the following days in August 2013...
| Mon | Tue | Wed | Thu | Fri | Sat | Sun |
| --- | --- | --- | --- | --- | --- | --- |
| | 30 | 31 | 1 | 2 | 3 | 4 |
| 5 | 6 | 7 | 8 | 9 | 10 | 11 |
| 12 | 13 | 14 | 15 | 16 | 17 | 18 |
| 19 | 20 | 21 | 22 | 23 | 24 | 25 |
| 26 | 27 | 28 | 29 | 30 | 31 | |
Venue details
In a world where kindness has become a radical act, let's beat the Tories with love and punchlines! Join comedian and activist Chris Coltrane for an hour of political stand-up, protest stories and hardcore joy. If you love the NHS, libraries, feminism and fighting bad guys, then this is the show for you. Revolution 85% guaranteed. 'One of the few acts who are the future of British political comedy' (Mark Thomas).
Share this show
Reviews
Full press release
If the Tories make you sad, let's fight them with love - and punchlines! Comedian and activist Chris Coltrane presents an hour of hilarious, passionate political stand-up, guaranteed to leave you elated and eager to protest.
In Compassion Is Subversive, Coltrane asks: when did supporting libraries and playgrounds become a radical act? It seems that even simply being kind is a hard-left ideal nowadays! How did it come to this? Why is the government trying to make us hate each other? Chris intends to find out, using stand-up comedy and hardcore joy.
Along the way, he demolishes austerity, champions public services and takes tax dodgers like Starbucks to task. He exposes the right's homophobia over equal marriage. He shows how both Labour and the Tories lie and peddle hate to get votes - and he tells stories from the front-line of activism, to inspire us to fight back.
Fans of sharp satire, intelligent silliness and friendly storytelling will adore Coltrane's second Fringe show. Chris fearlessly battles politicians and businessmen in the name of entertainment and justice. If you love the NHS, feminism and fighting bad guys, this show is for you.
Never over-earnest and always playful, fans of thoughtful, radical comedy will find him a must-see act. Mark Thomas: "Chris Coltrane is one of a handful of comics who are the future of British political comedy. He is funny, smart, playful, and often right!"
Activism Is Fun, his show last year, was in the top 20 highest reviewed comedy shows of the entire Fringe, according to the aggregation of all reviews by comedy.co.uk. It is a free download at chriscoltrane.com.
About Chris Coltrane

- Chris Coltrane has been doing political stand-up for 5 years. He is also the regular act at London's Pun Run, and also played the Leftfield tent at Glastonbury this year. For clips of his stand-up, visit YouTube
- He runs Lolitics, one of London's only political comedy clubs, and a regular venue for Mark Thomas, Andy Zaltzman, Josie Long and Rob Newman. Its podcast receives over 20,000 downloads per episode, and was featured as Chortle's Podcast of the Week.
- He is a member of the anti-cuts group UK Uncut, who take direct action against tax-dodgers like Vodafone and Top Shop. He has turned Barclays Bank, Soho Square and Westminster Bridge into spontaneous free comedy clubs, where over 500 protesters came to occupy and fight austerity with laughter, and has even presented an award to George Osborne when he was voted "Top Tax Shirker" by members of the PCS Union. Info
- He is a columnist for the New Internationalist, and blogs about politics. Over 7,000 followers have signed up for daily dollops of politics, puns and surreal nonsense from his Twitter feed: @chris_coltrane
---
Tweets by chris_coltrane
Visitor reviews

GirlwithEdinburghTattoo
Next up was Chris Coltrane and Compassion is Subversive. Very likeable, bisexual, London-based activist. Very much in the Mark Thomas mode but not annoying like Mark Steel. As well as targeting the Tories he took a pop at humour-bypass groups like Socialist Worker. Ended up with tale of hijacking a 'fat-cat energy providers' conference - ending on a positive, upbeat note. Not a lot of political comedy this year so good to give something like this your support.