Byron Bertram
Byron Bertram Is Relaxed & Paranoid
Stand-up
8:50pm (1 hour)
8-12, 14-19 & 21-26 Aug 2013
Free
This is a 2013 show that has now finished.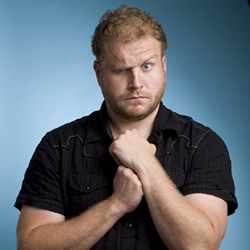 Show details
Stand-up show starring Byron Bertram performed on the following days in August 2013...
| Mon | Tue | Wed | Thu | Fri | Sat | Sun |
| --- | --- | --- | --- | --- | --- | --- |
| | 30 | 31 | 1 | 2 | 3 | 4 |
| 5 | 6 | 7 | 8 | 9 | 10 | 11 |
| 12 | 13 | 14 | 15 | 16 | 17 | 18 |
| 19 | 20 | 21 | 22 | 23 | 24 | 25 |
| 26 | 27 | 28 | 29 | 30 | 31 | |
Venue details
Byron Bertram doesn't know if he's funny. He doesn't know if anybody likes him. He doesn't know if anyone will come to the show. He's extremely worried about this year's festival but that's okay. He's come to terms with it and he's chilled about the whole situation. Byron Bertram is Relaxed and Paranoid.
Share this show
Full press release
This is Byron Bertram's 3rd year at the Fringe and like most seasoned fringe performers he's both "Relaxed and Paranoid". Despite great reviews, standing ovations, and praise amongst his peers and punters, he still worries if he's funny enough (he obviously is) does anybody like him? (they obviously do) or if anybody will come to the show (they did the last few times, so relax and quit being so paranoid).
Byron's uniquely self-styled, high-energy, infectiously funny character comedy is mixed with truthfully painful and hilarious personal insights.
Combined with his natural talent for accents and impressions, he consistently makes all walks of life have multiple, moving mouth noises of happiness through their face holes.

Byron Bertram was born and raised in Vancouver, Canada. Having come from an artistic background and being an only child seeking attention, his extroverted personality came naturally. His father is a musician, his mother an artist, and his grandfather was the famous late great painter and Order of Canada winner Toni Onley.
In 2011, Byron made it to the finals of the new Canadian Comedy Network Bite TV's National stand-up comedy contest Stand Up and Bite Me and was the winner of the Round 2 People's Choice Awards. Byron has performed and Headlined at some of the best stand up clubs throughout the world, including Yuk Yuk's (throughout Canada), Laff Lines (Vancouver) Comedy Works (Montreal), Comedy Zoo (Copenhagen), HA! Comedy Club (New York), Comics Lounge (Melbourne), Classic (Auckland) and Comedy Café (London) just to name a few.
Most recently Byron has worked with the likes of Zach Galifianakis, Whose Line Is It Anyway?'s Colin Mochrie, and Flight of the Conchords. He has received rave reviews for his own-man show Guilt Ridden Sociopath performed at the 2012 Melbourne Comedy Festival.
His TV credits include Fox Television's Alcatraz, ABC's Once Upon a Time alongside Robert Carlyle and was cast as a drunk alongside Academy Award winning actor Christoph Waltz in the upcoming Tim Burton movie Big Eyes.
---
Tweets by byronbertram