Will Ainsworth & Stuart Hossack
Introducing Stu Introducing Will - Free
Stand-up
12pm (noon) (1 hour)
4-26 Aug 2012
Free
This is a 2012 show that has now finished.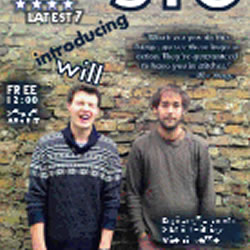 Mon
Tue
Wed
Thu
Fri
Sat
Sun
01
2
3
4
5
6
7
8
9
10
11
12
13
14
15
16
17
18
19
20
21
22
23
24
25
26
27
28
29
30
31
Venue details
Stand-up comedy with a twist from multiple award-not-quite-winner Stuart Hossack - finalist in SYTYF? 2011, semi-finalist in Chortle and Loaded Laftas 2011, runner-up in BBC New Comedy Awards 2011, "sheer genius" (Stage), "sweet and frequently funny" (Chortle.co.uk) - and pathetic dweeb Will Ainsworth, 23/M/Pembroke, DNQ, Pembrokeshire Amateur Comedian 2011, 'I don't respect him' (Hossack). One will light up your life (one hour) with his finely crafted jokes and stories, the other stinks of bleach and TCP and will make you physically sick. **** (BroadwayBaby.com). ****(TheLatest.co.uk).
Share this show
Reviews
Full press release
This show is a mixture of stand-up comedy and double-act/sketch pieces. The comedians are Stuart Hossack and Will Ainsworth.
Stuart Hossack has been performing regularly since early 2010. He was a finalist in So You Think You're Funny, runner-up in the BBC New Comedy Awards and semi-finalist in the Chortle Student competition and Loaded Laftas, all during 2011. Reviews of Stuart include 'sheer genius' (The Stage) and 'sweet and frequently funny' (Chortle). His act this year centres on the warped philosophy of a motivational speaker.
Will Ainsworth started performing stand-up comedy professionally in 2009, with a residency at Take Out Comedy Club in Hong Kong. He was a finalist in the Jokers! Joker Of The Year, a semi-finalist in the Leicester Square Theatre New Comedian competition and the Welsh Unsigned Stand-up Awards in 2011. Will is 'preposterously funny' (The Stage) and creates an 'impressively composed portrait' (Broadway Baby) as a character act. His straight stand-up was also described as 'faintly terrifying' (Latest 7), which he thinks is a good thing. This year he'll be cooking and talking about cooking. His character is a chef.
These guys received Four Star Reviews during 2011 from Broadway Baby and Latest 7. Although mainly a stand-up show, there are elements of narrative running through the show and audience participation.
Credits