The Three Englishmen
The Three Englishmen: Squares
Sketch show
5:40pm (1 hour)
1-10 & 12-27 Aug 2012
8 - 9.50
This is a 2012 show that has now finished.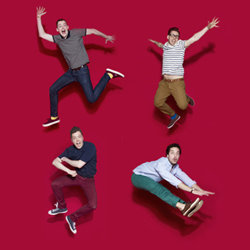 Mon
Tue
Wed
Thu
Fri
Sat
Sun
01
2
3
4
5
6
7
8
9
10
11
12
13
14
15
16
17
18
19
20
21
22
23
24
25
26
27
28
29
30
31
Venue details
'One of the UK's best emerging sketch troupes' (Scotsman) return to Edinburgh for a blistering third year after sell-out shows in 2010 - 'A breath of fresh air' (Comedy.co.uk) - and 2011 - 'Brilliant' (The Times). In their joyously silly and heart-warming style, 'Reminiscent of an updated Monty Python' (ThreeWeeks), The Englishmen present Squares - an unmissable new hour of sketches and music to put a smile on every face. Oh, and there's four of them. As seen and heard on BBC2, BBC3 and BBC Radio 4. Recommended by The Times, Time Out, Fest and The List.
Share this show
Reviews
Full press release
Fresh from appearances on BBC2, BBC3 and BBC Radio 4, The Three Englishmen return to the Edinburgh Festival Fringe for a blistering third year, after sell-out shows in 2010 and 2011.
In their joyously silly and heart-warming style, the Three Englishmen present an unmissable new hour of sketches and music to put a smile on every face.
A winning combination of imaginative characters, surreal pop-culture, delightful set-ups, and brilliantly catchy songs and music, Squares promises to be the stand out sketch show of this year's fringe.
The Three Englishmen are Ben Cottam, Nick Hall, Jack Hartnell and Tom Hensby. Yes, there's four of them.
Since their sell-out Edinburgh Fringe debut in 2010, they have performed to packed houses across the UK and Europe. Whether reaching the final of the Musical Comedy Awards, gigging for Prince Charles, blasting pub back rooms as a fake indie band, pretending to set venues on fire, or delighting sell-out audiences at their monthly residency in London's West End, the Englishmen continue to push the envelope and grow a cult following on the live comedy scene. With their ever-growing list of bookings and projects in development with Radio 4 and elsewhere, expect to hear more of them very soon.
Ben Cottam met Tom as part of Alcock Improv. A development producer on programmes including Louis Theroux specials, The Now Show and The News Quiz, Ben also worked with Armando Iannucci on the third series of The Thick Of It. He recently had a lead role in a Tiger Aspect sitcom pilot Teaboys for BBC3.
Nick Hall started in improvised comedy, forming the acclaimed troupe Dead Man in a Box. He attempted to become a serious actor with performances in Gogol's The Government Inspector and Shakespeare's The Tempest (Bloomsbury Theatre), but this failed. He remains stuck in comedy.
Jack Hartnell is a veteran of ten Edinburgh Festivals, having acted in the La Trattoria Di Segreti (2005), written and directed an adaptation of Thomas Mann's Faustus (2008), and choreographed the comedy musical A Grave Situation (2010).
Tom Hensby was a founding member of Alcock Improv. During his University years he was shortlisted for the Footlights Harry Porter Prize for Best New Comic Play and the RSC Other Prize for Best New Play. Amongst other things he has worked as a broadsheet journalist and a milkman.
Credits