The Pajama Men
The Pajama Men's Improv Show
Improv / Variety
9pm (1 hour)
2-12 Aug 2012
13 - 15
This is a 2012 show that has now finished.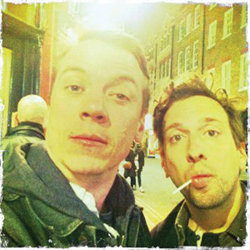 Mon
Tue
Wed
Thu
Fri
Sat
Sun
01
2
3
4
5
6
7
8
9
10
11
12
13
14
15
16
17
18
19
20
21
22
23
24
25
26
27
28
29
30
31
Venue details
Fresh from eight weeks of smashing it on London's West End, The Pajama Men come to Edinburgh, in their street clothes, with a completely improvised set. Each performance will feature different and exceptional comic guests and musical accompaniment. Every show will be different; every show will be pretty good. If you've never heard of The Pajama Men, it's worth mentioning that they've received a ton of stars and comedy awards worldwide. Seeing them raw and unscripted like this is like seeing a snow leopard mate with an eagle.
Share this show
Reviews
Credits
Visitor reviews

Billy Madison
Utter, utter cack. About as improv as a Tony Blair speech. Asked the audience for feed lines and then forgot to use them. I apologise to my 7 friends that I persuaded we should go and see this show and funded these people's lifestyles with a total of £120 of our hard earned money. They wheeled out some bog brushed-hair idiot (not his words - those would be too intelligent. He referred to his "paedophile hair" something you would need to be extraordinarily funny to pull off) halfway through who was annoyingly bad, to the point that he died and then referred to the fact he'd died on stage and was so, so poor. I don't say that I could do what they do but they choose to do it and for £15 for an hour show, they should do it well, which they did not. Don't go. Save your money for something worthwhile, like eggs or other foodstuffs.