Stuart Goldsmith Podcast
The Comedian's Comedian Live with Stuart Goldsmith
Comedy
12:15pm (1 hour)
3-5, 10-12, 17-19 & 24-26 Aug 2012
6 - 7.50
This is a 2012 show that has now finished.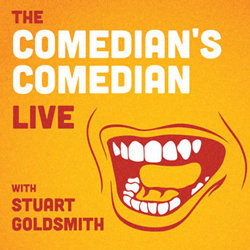 Show details
Comedy starring Stuart Goldsmith performed on the following days in August 2012...
Mon
Tue
Wed
Thu
Fri
Sat
Sun
01
2
3
4
5
6
7
8
9
10
11
12
13
14
15
16
17
18
19
20
21
22
23
24
25
26
27
28
29
30
31
Venue details
Stu grills headliners on how they create funny stuff from scratch! Part interview, part master class, part therapy. It's like Inside The Actor's Studio but for comics. And less pompous. Confirmed guests include: Rhod Gilbert, The Boy With Tape On His Face, Abandoman, and Pappy's. 'Warm, witty, and refreshingly cogent' (Scotsman). 'Probably the most likeable act on the circuit' (Metro).
Share this show
Reviews
Full press release
HOW DO TODAY'S STAND-UP COMEDY STARS GO FROM A BLANK PIECE OF PAPER TO A FULLY-FORMED EDINBURGH SHOW OR DVD?
Hosted by Stuart Goldsmith, each show takes one contemporary comedy hero, and shines the light of truth into the dark recesses of their most furtive little creative habits.
Comics are used to being asked "where do you get your ideas?", but The Comedian's Comedian LIVE goes further, asking:
- How much of your real self is there in your persona?
- How much new stuff can you get away with jamming into a club set?
- How do you shape a set-list?
- What's your methodology?
- Have you got a methodology?
- Why haven't you got a methodology?
This show will suit people who perform comedy, write comedy, enjoy comedy, or have an interest in comedians and what makes them so annoying.
It's a warm, witty and enthralling hour, with intimate secrets revealed - both professional and personal - and some opportunity for questions from the floor...
The Comedian's Comedian LIVE - it's like Inside The Actor's Studio but for comics.
And less pompous.
Stuart Goldsmith has been a stand-up comic for seven years, and has performed solo stand-up; crafted sketches with Richard Sandling in Kiosk Of Champions; presented kids TV whilst dressed as a cyborg; and was also the nice bloke in a fleece from ITV1's Show Me The Funny. You remember? No? There was a bit with an aubergine.
This year at the Pleasance Courtyard he will be shaking off his "nice guy" image with a show about his faults called Prick.
---
Tweets by ComComPod