Teeth in Eggcups
Teeth in Eggcups
Sketch show
9:15pm (1 hour)
2, 5-9 & 12-16 Aug 2012
Free
This is a 2012 show that has now finished.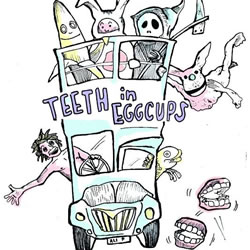 Show details
Sketch show starring Ali Pritchard performed on the following days in August 2012...
Mon
Tue
Wed
Thu
Fri
Sat
Sun
01
2
3
4
5
6
7
8
9
10
11
12
13
14
15
16
17
18
19
20
21
22
23
24
25
26
27
28
29
30
31
Venue details
A quirky, ludicrous, and honestly bizarre comedy sketch show.
Share this show
Full press release
Join us for a *FREE STOMACH WORK OUT* as we introduce you to an array of wacky characters including old Margery Tolkin, Bernard Boots (that annoying guy off the advert you only half remember), Grim - The Reaper, Freddie the Fishmonger and not to mention "The Fruitloops", a newstyle singing group devoted to raising awareness of the growing health concern of Obesity, and many more!
There will also be a support act from "The Bunnies", a group of four young women, (yes, you guessed it - dressed as bunnies) who will be doing a snippet of; 'This One's For You' by Jenny Duffy. A show made especially for, about and with you. Yes, YOU. Because, well, we love you.
Background to Show
Alphabetti Spaghetti Theatre was created by Ali Pritchard, and is made up of a group of young artists just emerging as graduates from Northumbria University. We are a small company of scriptwriters, actors and musicians that have collaborated to produce our first show together.
"Original, off the wall and clever - an insight into a brilliant mind."-BBC
"Utterly brilliant, mind boggling and bizarre. I cried with laughter at the characters and script Alphabetti Spaghetti offers the audience. I urge you to see Teeth in Eggcups but do leave your dentures at home as you could quite easily cause yourself a fatality through swallowing them through participating in abundant merriment offered." Jane Arnfield - Actress & Lecturer at Northumbria University
---
Tweets by TeethInEggcups