Super Serious Show
The Super Serious Show
Stand-up / Variety
8:55pm (1 hour)
2-13 & 15-26 Aug 2012
10 - 13
This is a 2012 show that has now finished.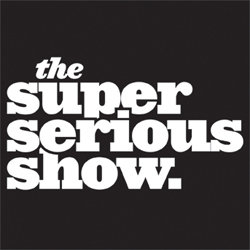 Show details
Stand-up show / variety performed on the following days in August 2012...
Mon
Tue
Wed
Thu
Fri
Sat
Sun
01
2
3
4
5
6
7
8
9
10
11
12
13
14
15
16
17
18
19
20
21
22
23
24
25
26
27
28
29
30
31
Venue details
A mash-up comedy show with the headliner hosting a mix of stand-up comedy, comedic shorts, sketch comedy and character bits. Originally hailing from Los Angeles, the show combines the best of live comedy. 'The Super Serious Show has reverse-engineered the alternative comedy scene, and it didn't take long for comedians, and their audiences, to notice' (Farley Elliott, LAist.com). 'Well, the secret's out. The only thing more packed than the line-up was the studio, where people filled the seats and lined the walls to watch the show' (Jason Islas, LASnark.com).
Share this show
Reviews
Full press release
To make the best comedy show in Los Angeles, take a bit of sketch, mix in a large helping of stand-up, then add generous helping of character comedy and turn the temperature up to high.
The Super Serious Show has fast built up a reputation as one of the best nights out in LA and as such attracts the top comedy names in the US. Now the hot-shot young producers behind it are bringing their magic formula along to the Edinburgh Fringe for the very first time with a mix of some of the hottest young comics in the US and some of the best performers in Edinburgh in August.
Conceived as an antidote to the middle ground, lifeless comedy clubs that occupy many US cities, Super Serious presents live comedy in an intimate, loose artistic and elevated endeavour for both audiences and performers. The show features a seamless and wellcurated variety of performers and styles - from stand-up to oddball characters, sketch comedy to music comedy + comedic videos - it's all fair game. And with Super Serious, unlike most live comedy showcases, the headliner hosts the show. It's not just a hit and run evening, performers and audience share in the fun of the show to create an atmosphere in which everyone in the room is there to have a fantastic time.
During its regular run in Los Angeles, each show brings in the best performers working today, along with great young talent. Past performers include Sarah Silverman, Weird Al Yankovic, Daniel Tosh, Demetri Martin, Chris Hardwick, Aisha Tyler, Reggie Watts, Margaret Cho, David Koechner, Mary Lynn Rajskub, Marc Maron, Thomas Lennon, Jimmy Pardo, Matt Braunger, Dana Gould, Greg Fitzsimmons, The Sklar Brothers, Pete Holmes, Chris D'Elia, Garfunkel & Oates, Jen Kirkman, Iliza Shlesinger, Paul F. Tompkins, Baron Vaughn, Jon Dore, T.J. Miller and many more.
---
Tweets by SeriousShow