Sploshy
Sploshy: A Sketch Show
Sketch show
7:05pm (1 hour)
11-14, 16-21 & 23-26 Aug 2012
Free
This is a 2012 show that has now finished.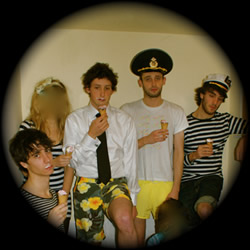 Mon
Tue
Wed
Thu
Fri
Sat
Sun
01
2
3
4
5
6
7
8
9
10
11
12
13
14
15
16
17
18
19
20
21
22
23
24
25
26
27
28
29
30
31
Venue details
Sploshy: A Sketch Show is a fantastic opportunity to see the cream of a new wave of comic talent emerging from the student comedy scene.
Share this show
Reviews
Full press release
Comprised of four members of 2010's acclaimed line-up of renowned sketch troupe The Oxford Revue, these four well-honed comic actors display the considerable skills they have developed over their three years of performing experience at the Fringe. After acclaimed shows in Oxford, and London's Leicester Square Theatre, Sploshy bring a manic, inventive, and frenziedly paced hour of crowd-pleasing sketches to Edinburgh. With a no frills, ramshackle charm, these four electric performers keep the laughs flowing with both a superb shared chemistry and distinct individual styles.

Displaying their writing talents, holding sketches within an entertaining and fresh story arc, the group's sketches are held up against the backdrop of Sploshy's illustrious (read: made-up) history:

The original line-up of legendary sketch group Sploshy (Hohenschonhausen Comedy Expo 1986 runners-up), reunite for the first time since the Great Wreck, revisiting their greatest hits for their adoring fans. These four veteran comedians give a master class in the sketch comedy of yesteryear and look fondly back at their now lost youth. Find out why that 1979 Laçñelloç Entertainment Bureau Ones to Watch award was no fluke! Pending investigation from the UK Border Agency.
More than just a ragbag of sketches, the cast of four have a mysterious and shady past that informs their distinct characters throughout all the show's variety of situations. More than just the sketch show of its title, Sploshy is an opportunity to see four confident and magnetic new writer/performers showcasing an inventive, fresh and hilarious new style.
---
Credits
Tweets by sploshycomedy