Slap & Giggle: Retrial
Slap And Giggle: Retrial
Music / Sketch show
2:45pm (1 hour)
12-25 Aug 2012
Free
This is a 2012 show that has now finished.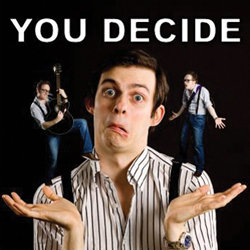 Show details
Music / sketch show starring Sid Wick and James Bennison performed on the following days in August 2012...
Mon
Tue
Wed
Thu
Fri
Sat
Sun
01
2
3
4
5
6
7
8
9
10
11
12
13
14
15
16
17
18
19
20
21
22
23
24
25
26
27
28
29
30
31
Venue details
Award-winning musical comedy double act Sid and James do everything in their power to avoid getting sent down for a crime they almost certainly did commit. Witness this live trial of two liars desperately trying to clear their worthless names. Featuring special guest witnesses (including Levi Roots), objectionable songs (including Levi Roots) and implausibly false alibis (including Levi Roots). Innocent or guilty -you decide. 'Morecambe and Wise meets Vic and Bob. Well crafted ... particularly sharply-penned'( Marissa Burgess, Manchester Comedy Festival Review). 'Very good, inventive jokes and songs raise a genuine laugh' (Chortle.co.uk).
Share this show
Reviews
Full press release
Award winning Manchester-based comedy double-act Sid Wick and James Bennison return to the Edinburgh Fringe for their 3rd year. This year, James has been charged with three bizarre crimes, and it's up to his defence attorney, Sid to get him off. The trail is conducted throughout the hour, the audience serving as jury.
Watch in horror as James unashamedly confesses to his crimes, unwittingly serving as the prosecution to Sid's defence. As James sporadically insists on his innocence, Sid is forced parade a multitude of unsuitable witnesses and increasingly implausible evidence in a desperate attempt to triumph in the no-win-no-fee case. Peppered with Slap & Giggle's notorious musical offerings, as part of their evidence, Sid and James present songs including Giving up Drinkin', the sketch-artist-drawing accompanied Broke my Heart, and a tribute to the Reggae Reggae Sauce inventor himself So Long, Mr Roots. Whilst attempting to win James' case, Sid must face his transgender demons, James must move on from his historic single 'night of passion', and both must work together to evade the law.
After shock revelations (featuring Levi Roots), guest witnesses (featuring Levi Roots), and an increasingly self depreciating defence, it is the audience who casts their verdict, leading to a multitude of equally distressing endings (featuring Levi Roots).
Slap & Giggle perform character comedy based shows, using the format to incorporate original live songs, concept sketches, and trademark wordplay. The double act approach also allows a progressive narrative through line, something usually impossible with more conventional sketch shows.
Beneath their purposefully idiotic exterior lies a witty, cutting intelligent edge, reminiscent of the classical vaudeville approach, with added modern bitterness, tragedy, and obscure perspectives thrown into the mix. This rare approach has led to regular guest appearances on BBC Radio Manchester, along with 4 previous sell out shows, a world tour, all of which the critics and audience have agreed, were well worth the bribes exchanged for favourable quotes.
---
Credits
Tweets by slapandgiggle