Roland Rides
Roland Rides The Rail's! (Again) - Free
Comedy
2:15pm (1 hour)
3-4, 6-11, 13-18, 20-25 & 27 Aug 2012
Free
This is a 2012 show that has now finished.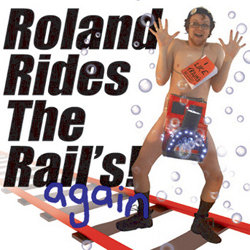 Show details
Comedy starring Greg Drysdale performed on the following days in August 2012...
Mon
Tue
Wed
Thu
Fri
Sat
Sun
01
2
3
4
5
6
7
8
9
10
11
12
13
14
15
16
17
18
19
20
21
22
23
24
25
26
27
28
29
30
31
Venue details
Train enthusiast Roland Dootsan returns with simply the best show you'll see this side of the festival (based loosely around trains). No knowledge of trains required. 'What a joy ... Sometimes laugh-out-loud, sometimes bizarrely surreal, always entertaining. Don't go because it's free, go because it'll brighten your afternoon' (Audience member, 2011). 'Absolutely bonkers ... Great character, great material, and it gets a lot weirder and wilder than you may expect!' (Sam Goldblatt, Producer Edinburgh 48Hour FilmFest). People who like this may also like: Dave Gorman, Harry Hill, Simon Munnery, Reeves and Mortimer. www.rolandridestherails.co.uk.
Share this show
Reviews
Visitor reviews

Scott Daley
I don't often laugh out loud but Roland and his mad trainspotting, naturist, show and tell, top trumps lifestyle, had me doing just that. Best free show l've ever paid to see at the Fringe. Long live the trainspotter :-)
alison goldie
Didn't know what to expect but what a show! Way better than some of the stand up I seen. Would reccomend a visit!
Trudes
Enjoy a wondrous 'train lecture' with Roland! Experience the exhilarating fresh comedy that will have you in tears laughing. This is the best Free Show I have seen on the Fringe and would happily purchase a return ticket to join Roland's next journey. Fantastic show make sure you don't miss out. Go because it is quite simply, Marvelously Super and you may even learn a little about Trains!
GregsterD
Jen Simpson
There is NOTHING wrong wae GranGEMooth!!!
Neil Ormiston
I pissed my pants
Fergie
I actually think a little bit of pee came out during Roland's show. Grangemouth's Roland Dootsan didn't dissapoint. For a whole hour I was transported in to the strange and surreal world of the train spotting brain. I had this cliched opinion of what train spotting is and now find myself wishing to buy a weatherproof, beanie hat, comfortable shoes and notepad just so I can join Roland on a regular basis searching for posters of Laura! You only have a few days to catch him at the Fringe this year! If you do nothing else you have to do this! You won't be dissapointed !