Rick Shapiro
Rick Shapiro: Rebirth
Stand-up
6:10pm (1 hour)
1-12 & 14-27 Aug 2012
13 - 14
This is a 2012 show that has now finished.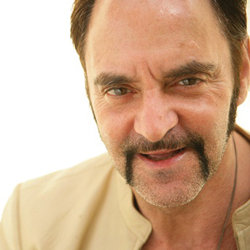 Show details
Stand-up show starring Rick Shapiro performed on the following days in August 2012...
Mon
Tue
Wed
Thu
Fri
Sat
Sun
01
2
3
4
5
6
7
8
9
10
11
12
13
14
15
16
17
18
19
20
21
22
23
24
25
26
27
28
29
30
31
Venue details
Four years after an amnesia-causing car accident, US comic, Rick Shapiro returns to Edinburgh. Crash. Silence. Boom! Boom! Three hits to erase a memory. Four years to rebuild one comedian's jazz-styled lyricism. A unique voice on stage revitalized, regenerated, reborn. Welcome to return, the Rebirth of Rick Shapiro. Author. Survivor. 'Equal parts ]Lenny Bruce], ]Richard Pryor] and ]Lou Reed]. New York City's most lurid funnyman - a real star' (NY Press). '... searingly honest, the most transgressive comedian in America today. He's hilarious ...' (Penthouse Magazine). 'His pointed observations on pop culture are pure brilliance' (TimeOut).
Share this show
Reviews
Press coverage
Full press release
After a four year break and complete memory loss through a serious car accident, the legendary US comic Rick Shapiro makes a long awaited return to the Edinburgh Festival with his brand new show, Rebirth.
Aptly named, Rebirth is his first Edinburgh show since he suffered severe head injuries in a car accident, causing complete amnesia resulting in a four-year intensive rehabilitation plan. Now Rick is ready to return to the stage which he has made his own for the past 25 years as a stand-up comedian, with a show that promises to make audiences want to come back for more. Rebirth is an intense, borderline insane observational view about today's society; more than just stand-up it is Words, Music & Poetry of Free Minds exercising Free Speech.
No two shows are planned to be exactly the same, whether that means different characters, added sketches, audience interaction or Rick doing a completely different set as only he can. If you've seen Rick, you'll remember the first time and trying to wrap your head around what you'd just been part of -- and desperately wanting to take part again soon. Merely being in the room is an interactive experience. Multiple attendances are highly recommended - no one wants to say they missed the one!
As well as being one of the most innovative and surreal artists over the past quarter of a century, Rick has carved himself a career as an actor, appearing in the HBO sitcom Lucky Louie as the brother-in-law, Jerry and more recently this year's villain as T-Rick in the film Project X. He was a regular performer on The Conan O'Brien Show and was one of the comic's hosted on season 2 of ShowTime's: Green Room with Paul Provenza. He has appeared on The Howard Stern Show, has a new CD out called Catalyst For Change and a book recently released entitled Unfiltered.
---
Tweets by rickshapirotv