Rich Peppiatt
One Rogue Reporter
Comedy
5pm (1 hour)
1-13 & 15-27 Aug 2012
9.50 - 10.50
This is a 2012 show that has now finished.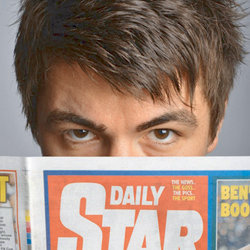 Show details
Comedy starring Rich Peppiatt performed on the following days in August 2012...
On 6th and 7th tickets are two for one.
Mon
Tue
Wed
Thu
Fri
Sat
Sun
01
2
3
4
5
6
7
8
9
10
11
12
13
14
15
16
17
18
19
20
21
22
23
24
25
26
27
28
29
30
31
Venue details
Rich Peppiatt's Leveson Inquiry evidence 'reduced the public gallery to hysterics' (Guardian) after having 'the newspaper industry's greatest Jerry Maguire moment' (TheMediaBlog.TypePad.com). Now the former red-top hack pursues redemption by hilariously turning the tables on the tabloid power players, testing the public's right to know to its eye-opening extremity. Career suicide at its most shocking. 'A petulant scoundrel' (Daily Telegraph). 'A Judas' (Nigel Pauley, Daily Star). 'A self confessed liar' (David Wooding, Sun on Sunday). 'I believe everything Peppiatt said was true' (Sir Tom Stoppard).
Share this show
Reviews
Press coverage
Full press release
Grab the inside scoop as red-top renegade Rich Peppiatt delivers a merciless dissection of his former trade, testing the public's right to know to its side-splitting extremity... against the tabloid bully boys themselves.
A daring mixture of live stand-up and outrageous video content, join Rich as he plots a path to redemption - save one final rampage through Fleet Street's gutters.
Since his withering resignation letter to Daily Star proprietor Richard Desmond became a viral sensation last year, Rich's brutal honesty and availability at short notice due to lack of gainful employment has made him a regular on TV and radio discussing all things tabloid.
He's had the dubious honour of appearing twice before the Leveson Inquiry into press ethics, with his searing testimonies making headlines around the world.
Now a prominent campaigner for press reform, he is working on a number of comedy projects including a sitcom called Red Top Blues optioned by Hat Trick Productions.