Paul Merton's Impro Chums
Paul Merton's Impro Chums
Improv
4pm (1 hour)
16-25 Aug 2012
11.50 - 14.50
This is a 2012 show that has now finished.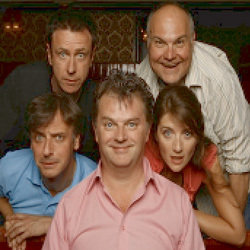 Mon
Tue
Wed
Thu
Fri
Sat
Sun
01
2
3
4
5
6
7
8
9
10
11
12
13
14
15
16
17
18
19
20
21
22
23
24
25
26
27
28
29
30
31
Venue details
Paul Merton and his highly acclaimed Impro Chums are wonders of nature. Impro Chums take audience suggestions and create cascades of fantastic tumbling laughter. Most of the time. The Impro Chums are Paul Merton, Suki Webster, Richard Vranch, Lee Simpson and Mike McShane. 'Every year they bring the house down ... a testimony to their brilliance and consistency ... you could see this every night and never tire of it' ***** (Mirror). 'These are masters of their craft and there wasn't a dull moment . Terrific fun' (Manchester Evening News). 'A masterful demonstration of improvised comedy' (Telegraph).
Share this show
Reviews
Press coverage
Full press release
Following an extensive tour of the UK in Out Of My Head - his first stand-up show for over 12 years - Paul Merton returns to the Edinburgh Festival Fringe this year with his world renowned Impro Chums.
Paul and his chums, Mike McShane, Lee Simpson, Richard Vranch and Suki Webster will create a new and unique comedy show every single night, based entirely on suggestions from the audience, their own finely honed improvisational skills and an almost manic compulsion to show off.
All the Chums have been improvising with the Comedy Store Players since the mid-1980s. They are a unique, vintage blend of experience and inventiveness.
Paul Merton: A founder member of The Comedy Store Players, he still appears at the Comedy Store most Sundays alongside other comedians including Josie Lawrence and Lee Simpson, Richard Vranch, Neil Mullarkey and Andy Smart. He is a regular guest on Radio 4's Just A Minute and is an established face on TV shows such as the hugely popular Have I Got News For You, Room 101, Paul Merton Looks at Alfred Hitchcock (BBC4/2), Paul Merton's Birth of Hollywood (BBC 2) and his travel series for Channel Five in India, China, Europe and more recently Paul Merton's Adventures. He recently appeared on the televised series of Just A Minute (BBC2).
Mike McShane is best known as one of the original crew of Whose Line and has been to and fro, from America to Britain with stops in Hollywood in between. He is married to the beautiful and gifted Karen, and is tolerated by an English cat named Henry. He would like to thank his fellow Chums for keeping him sane.
Lee Simpson became a member of the Comedy Store Players in 1987. He is a founder member of Improbable, one of the country's foremost theatre companies and along with Richard Vranch he wrote and performed on Paul Merton - The Tour and Paul Merton - The Palladium[/]i, he also directed Paul in Paul Merton - And This is Me.
Richard Vranch improvises and writes comedy, and does voiceovers, cartoons and animations. He's appeared on Radio 4's Just A Minute, and toured the world from Mexico to Palestine acting in sketch shows. He co-wrote and performed in Paul's season at the London Palladium. He doesn't do music.
Suki Webster is a regular guest of The Comedy Store Players and has tour the world with Paul Merton And His Impro Chums and more recently co-wrote Paul Merton Looks at Alfred Hitchcock (BBC4/2) and a Morecambe and Wise tribute show (BBC1). She also co-wrote and was Assistant Director on Paul Merton's Birth of Hollywood (BBC2).
Credits