Pat Burtscher
Pat Burtscher's Patopotamoose
Stand-up
8:30pm (1 hour)
1-7, 9-13 & 15-27 Aug 2012
11 - 12
This is a 2012 show that has now finished.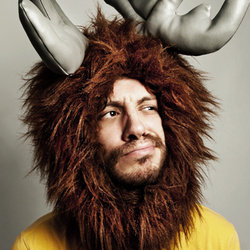 Show details
Stand-up show starring Pat Burtscher performed on the following days in August 2012...
Mon
Tue
Wed
Thu
Fri
Sat
Sun
01
2
3
4
5
6
7
8
9
10
11
12
13
14
15
16
17
18
19
20
21
22
23
24
25
26
27
28
29
30
31
Venue details
What the heck's a Patopotamoose? It's a title. You don't like it? You do a show and call it whatever the heck you want. This stand-up comedy show is called Patopotamoose. Deal with it. Pat Burtscher will address any further issues, concerns or whatever the heck else you may have at the actual show, Patopotamoose. He is a Canadian who lives in the UK and was born somewhere in Europe.'...imaginatively off-beat ideas' (Chortle.co.uk). '... funny, and silly, in a good way. The Fringe needs more of this!' **** (Latest 7). ''Very, very funny' (ThreeWeeks).
Share this show
Reviews
Full press release
Making his Edinburgh debut this year with his show Patapotamoose - Canadian Pat Burtscher is one of the most exciting and inspiring acts to emerge on the comedy scene in the past few years. His supremely confident delivery wins over the toughest of audiences and his cleverly crafted and surreal material guarantee that the laughs come hard and fast. Pat was a finalist in the Laughing Horse New Act and Hackney Empire competitions.
Patapotamoose is a one-hour comedy safari from one of Canada's funniest land mammals, who now resides in the UK. Pat Burtscher approaches mature topics from the environment, prison, art school and space exploration with a childlike silliness. In short, Patapotamoose is like watching snippets of the news through a fun house mirror and will show you a glimpse into the mind of one of the most imaginative and funny comedians working today.
Pat is now on, what it seems to be, a tour of festivals! He has just performed at Adelaide, is currently at the Melbourne International Comedy Festival then goes onto the Machynlleth Comedy Festival, the Hollywood Fringe Festival and the Toronto Fringe festival before heading to Edinburgh to debut his first full hour in his own unique style.
---
Tweets by PatBurtscher