Musical Comedy Awards
Musical Comedy Awards Showcase
Music
8:55pm (1 hour)
10 & 11 Aug 2012
14
This is a 2012 show that has now finished.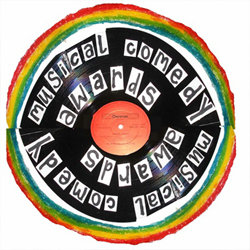 Mon
Tue
Wed
Thu
Fri
Sat
Sun
01
2
3
4
5
6
7
8
9
10
11
12
13
14
15
16
17
18
19
20
21
22
23
24
25
26
27
28
29
30
31
Venue details
Since 2009, the MCAs have provided a launch pad to superstar acts like Frisky and Mannish (2009 finalists), Abandoman (2010 winners) and Jay Foreman (Best Newcomer 2009 and now touring with Dave Gorman) and are the best place to see the UK's finest emerging and established musical comedians. Don't miss these two exclusive showcases of the TimeOut London Critics' Choice show! Sell-out final 2009/10/11. 'As the Musical Comedy Awards demonstrate, the genre is currently bursting with talent' (TimeOut). 'Fast becoming one of the biggest nights in the UK comedy calendar' (ComComedy.com).
Share this show
Reviews
Full press release
Friday 10th:
Axis of Awesome - Australia's most awesomest comedy band, their Four Chord Song is one of the most watched comedy videos of all time on YouTube, and has received over 40 million views. Also performing their show Cry Yourself a River at the Pleasance Grand from Aug 1-19 at 6pm.
Mitch Benn - star of Radio 4's The Now Show and quoted in The Times as 'The country's leading musical satirist', Mitch can also be seen at his solo show, Mitch Benn: Reduced Circumstances.
Rachel Parris - runner up in this years MCA and a truly fantastic musical comedian: "Rachel Parris brings her mature song-writing skills to bear on ballads. An elegant performer with rich, witty numbers... clearly in command of her style" - Steve Bennett, Chortle. Rachel can be seen as part of the duo Parris & Dowler and also in the hilrious show which creates an original improvised Jane Austen novel for audiences everyday, Austentatious.
Jollyboat - MCA Winners of the 2011 competition, brothers Ed and Tommy Croft are an absolutely fantastic double act who will be performing from the 3rd - 24th at the Voodoo Rooms at 13.30.
Mae Martin - MCA Finalist in 2011 and much loved throughout the industry for her unique warmth and wonderful blend of comedy: "She's gentle but intelligent, sweet yet sharp, and it's a winning combination... after the night is over, it's Mae Martin people are talking about. She's the gem in an evening of outstanding comic talent." - Spoonfed.co.uk. Catch Mae's show Mae Day at Just The Tonic Caves from Aug 2 -26th.
Horse & Louis - MCA Runners up in 2010 and hosts of the MCA, Horse & Louis are simply the best comperes you could wish for, bringing so much energy, professionalism and fun to every event they host. They also recently hosted the Time Out Now That's What I Call Musical Comedy gigs on Southbank and are going from strength to strength with their own fantastic material. Catch their show Horse & Louis: The Curse Of... at the Underbelly from Aug 2-26 at 12.55.
Saturday 11th:
Frisky & Mannish - We are over the moon to have 'fullly blown superstars' (Time Out) Frisky & Mannish headlining our Saturday night showcase. They will have just arrived in town so come and catch a first glimpse of their 2012 Edinburgh run with us! 'A constantly evolving force of musical nature' (Metro, 2011) Catch F&M's Assembly Room show Extra-Curricular Activities from Aug 16-26 at 19.30 and also their special extra show based on the phenomenon of famous musicians dying at 27, '27 Club' again at the Assembly Rooms from Aug 20-22.
Amateur Transplants - fresh from his sell-out nationwide tour, Adam Kay returns to Edinburgh with his hilariously dark and brilliant blend of musical comedy. "Superbly politically incorrect. Gloriously funny" - Scotsman. Catch Adam Kay's Bum Notes at 19.00 at the Pleasance from Aug 1 - 27.
Thomas Nelstrop - aka Jonni Music, whose music (he claims) is so awesome that Micheal Eavis cancelled Glastonbury this year! As seen on The Impressions Show, Doctor Who, Two Pints, Honest, Comedy Shuffle. 'Hilarious' (Sun). 'Absolutely f*cking brilliant' (HolyMoly.com). 'All hail Jonni Music' (Q). 'Gleefully vicious' (NME). See his full show Great(ish) Hits at 16.30 at the Pleasance from Aug 1 - 27.
Fair & Square - this year's WeGotTickets Best Newcomers at the MCA, Fair & Square are an absolutely fantastic trio of 18 year old musical comedians who after their MCA success were also invited to perform at Time Out's Now That's What I Call Musical Comedy. Watch their full set at the MCA Final here.
Bob & Jim - MCA Finalists at this year's competition, Bob & Jim are a fantastically inventive 'neo-vaudeville' double act, best described in the following quote: 'An all-singing, all-dancing variety extravaganza with lashings of triumphant tomfoolery. Truly inspired' **** (Comedy.co.uk). Go to their show Go at 12.20 at the Underbelly from Aug 1 - 27.
Horse & Louis - Again hosted by the brilliant Horse & Louis, see description above.
Credits