Munfred Bernstein
Munfred Bernstein's Cabinet of Wonder
Music
3:45pm (1 hour)
1-13, 15-20 & 22-27 Aug 2012
5 - 9.50
This is a 2012 show that has now finished.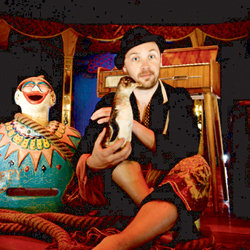 Show details
Music starring Munfred Bernstein performed on the following days in August 2012...
Mon
Tue
Wed
Thu
Fri
Sat
Sun
01
2
3
4
5
6
7
8
9
10
11
12
13
14
15
16
17
18
19
20
21
22
23
24
25
26
27
28
29
30
31
Venue details
Welcome to Munfred Bernstein's Cabinet of Wonder. This hilarious musical misadventure from a man unhinged is a cabaret of wild tales, collected from the four known corners of the globe. Munfred has scoured the lengths of the earth, and from his travels this rambunctious raconteur brings back stories and songs most curious as he opens his Cabinet of Wonder for your viewing pleasure - a shrine to the truly bizarre, the beautifully wonderful and the wonderfully odd. 'Splendiforous' (RipItUp.com.au). 'Quick-witted brilliance' (Tvnz.co.nz).
Share this show
Reviews
Full press release
Welcome ladies and gents, to Munfred Bernstein's Cabinet of Wonder, an hilarious one-man musical misadventure. More than just stand-up, this is a fast-paced, fun and frentic one-man travelling sideshow.
This show was inspired by the Renaissance Cabinets of Wonder in which the wealthy and aristocratic elite would collect artefacts from natural history (not always genuine) to shock and amaze others. Munfred has filled his cabinet with all manner of odd, hilarious and downright weird.
Munfred delves in to the crazy museum like wardrobe, extracting stories, music and mayhem to delight the audience. He seamlessly mixes vaudeville, stand-up, cabaret, music and craziness in a pot and out spurts an hilariously original piece of comic theatre.
Directed by Jesse Griffin (Wilson Dixon, The 4 Noels) this is a new and innovative work was funded and supported by the NZ Comedy Trust's Creative Comedy Initiative. Munfred is the brainchild of stand-up comic Jamie Bowen. Bowen is the creator and writer of the cult TVNZ hit A Night at the Classic, a behind the scenes mockumentary about the NZ comedy industry.
Awesomeness Comedy are Rhys Darby and wife Rosie Carnahan. For four years they have focussed on bringing the best of the world's stage to NZ, now they are flipping it over and bringing quite simply the best in Kiwi comedy to the Edinburgh Fringe. Team Darby cherry pick exceptional shows that make them laugh, which they think the world should see.