Michael Winslow
Michael Winslow - Noizeyman
Stand-up
9:40pm (1 hour)
1-13 & 15-27 Aug 2012
12.50 - 14.50
This is a 2012 show that has now finished.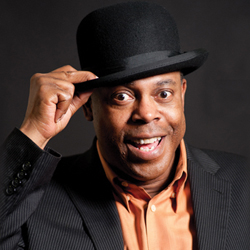 Show details
Stand-up show starring Michael Winslow performed on the following days in August 2012...
Mon
Tue
Wed
Thu
Fri
Sat
Sun
01
2
3
4
5
6
7
8
9
10
11
12
13
14
15
16
17
18
19
20
21
22
23
24
25
26
27
28
29
30
31
Venue details
A hilarious whirlwind of staggering special effects, astounding sounds and extraordinary noises, from the star of Police Academy, Family Guy, The Simpsons, Spaceballs, Gremlins and many more. A brand new show from 2011's total sell-out, don't miss your chance to spend an hour with a true Hollywood legend. ***** 'Truly incredible' (Edinburgh Evening News). ***** 'World class' (britishtheatreguide.info). **** 'A masterclass' (Metro). **** 'Breathtaking' (Herald). **** 'Hilarious' (Daily Record). **** 'Impressive' (Scotsman).
Share this show
Reviews
Full press release
Last summer, a true Hollywood legend appeared at the Fringe, his name practically unrecognized, his face vaguely familiar. He left a month later as one of the highest selling, greatest reviewed, most talked about performers the festival has ever seen, having sold every single seat and receiving standing ovations in every single show. Following his first UK nationwide tour, Michael Winslow returns this August with a brand new hour of stunning sound effects, inspiring impressions and a downright immense amalgamation of Noize.
Best known for playing Sgt "Motor Mouth" Jones in the hugely successful Police Academy films, Michael is the master of vocal gymnastics and his claim that he is the original vocal artist of the 20th century was absolutely proven with his success at last year's Fringe. He can imitate the impossible using only his voice, from how Led Zeppelin began to what Star Wars would sound like without its original soundtrack.
Born in 1958 on Fairchild Air Force Base, Michael would imitate the airplane noises and jet engines and soon he was on stage at Tulagi's, Colorado, where Jimmy Hendrix, The Doors, and various other famous bands had played. Hearing that a group of Jimmy Hendrix fans were present, he decided to portray him and, from the ovation and applause that followed, Michael knew his calling.
Whilst living homeless in Venice Beach, Michael auditioned for the Gong Show, hosted by the infamous Chuck Barris, and soon moved on to LA to perform in the local comedy clubs. It was here that he was discovered by Bud Friedman, founder of the renowned New York Improvisation Comedy Club and who, in the past, has launched the careers of the likes of Bette Midler, Andy Kaufman and Jay Leno. Friedman featured Michael in the famous Evening at the Improv and in 1984 producers Hugh Wilson and Paul Manslanski witnessed his talent and immediately wrote him into the script of the unforgettable Police Academy movies.
A star was born, and Michael went on to provide the voice of Stripe in Stephen Spielberg's Gremlins, and to star in National Lampoon's Robo Doc and Mel Brooks' Spaceballs. You can also hear him in various episodes of Family Guy, King Of The Hill!, and Robot Chicken.
Nu Line Cinema have announced the making of another Police Academy movie, filming of which will begin this autumn!
---
Tweets by Noizey_Man