Markus Birdman
Markus Birdman - Love, Life and Death
Stand-up
9:20pm (1 hour)
1, 3-12, 14-19 & 21-26 Aug 2012
8
This is a 2012 show that has now finished.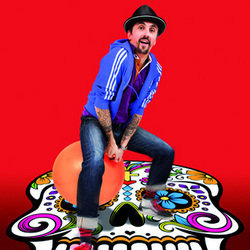 Show details
Stand-up show starring Markus Birdman performed on the following days in August 2012...
Mon
Tue
Wed
Thu
Fri
Sat
Sun
01
2
3
4
5
6
7
8
9
10
11
12
13
14
15
16
17
18
19
20
21
22
23
24
25
26
27
28
29
30
31
Venue details
Markus Birdman - Love, Life and Death. This son of a preacher man, father of a daughter, atheist and dreamer, wonders, where's God when you actually need him? 'His thought provoking, soul-bearing show was a joy. Such weighty material, handled with the utmost respect. Beautifully captivating, genuinely charming, and hilarious' **** (Skinny). 'Delightfully comic, topical, controversial and personal' **** (List). 'Absorbing, intelligent and funny' **** (Metro). 'Second to none' **** (Adelaide Advertiser). 'Not an over-exposed, celebrity stand-up, way funnier.' ***** (TalkFringe.com, Adelaide). 'Controversial, witty, hip, silly. I laughed so hard it hurt' (BBC.co.uk). www.markusbirdman.com.
Share this show
Reviews
Press coverage
Full press release
Death is still a very taboo subject. We just don't want to talk about it. We all know it exists. We all realize that, someday we'll have to go there, but we're certainly in no rush. It's like Disneyland in that respect, only with fewer balloons. Death, Hamlet said, is the "undiscovered country, from whose bourn no traveler returns". And that's what scares us. Because who knows what DEATH? actually is?
Well I do, at least, a little. At the age of forty, I had a stroke. Nothing will make you assess your life more keenly than the prospect of you imminently losing it! Eight months of heart recordings, blood tests, brain scans, swallowing cameras, and being injected with yellow radioactive stuff will do that. And what was that yellow stuff? Maybe life does begin at forty.
A journalist asked me if I now look at life differently. Absolutely, I replied. I'm now partially sighted.
A quarter blind I might now be, but the scales have fallen from my eyes. As the experience has given me a perspective on life that few are afforded.
I think it was Voltaire who said. 'Death smiles at us all, all we can do is smile back.' Actually it might have been Jackie Chan in Kung Fu Panda, but the point stands. LIVE! When you laugh, laugh like hell. When you're angry, get good and bloody angry. And if you're in love, give them a proper seeing too. Any idiot can make love. (ahem!)
And then perhaps, that 'Undiscovered Country' of Hamlet's, isn't your Death at all, but the rest of your life.
---
Tweets by birdmanwatching