Mark Little
Mark Little: THEbullsh*tARTIST
Stand-up
10:20pm (1 hour)
1-12 & 14-26 Aug 2012
8 - 13
This is a 2012 show that has now finished.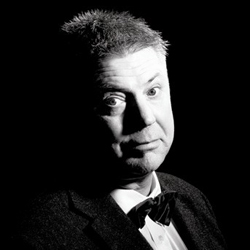 Show details
Stand-up show starring Mark Little performed on the following days in August 2012...
Mon
Tue
Wed
Thu
Fri
Sat
Sun
01
2
3
4
5
6
7
8
9
10
11
12
13
14
15
16
17
18
19
20
21
22
23
24
25
26
27
28
29
30
31
Venue details
As the @wikileaks/@twitter culture continues to confuse truth and bullsh*t, Mark Little tap dances his way through the chaos of modernity with his funny dog in this black and white, silent comedy romp...or not? #truth?
Share this show
Reviews
Full press release
Mark Little returns to stand-up comedy after an absence from the festival since 2005. He has spent the last ten years performing in theatres across Britain with the Laurence Olivier Award winning one-man play Defending the Caveman. Now the million-mile tour is over! It's 2012 and Little is set to celebrate 33 years since his first solo comedy performance in 1979, with his new show THEbullsh*tARTIST.
THEbullsh*tARTIST sees Mark tap dance his way through the upheavals of the modern #wikileaks #twitter #murdoch #arabspring #nuclear #doomsday epoch with his own unique take on "Earth 2012" and its unnerving popularisms with a funny little dog in this black and white, silent, non-stop comedy romp.
From the dubious pizazz of its opening to its ecstatic transcendental ending, the show boasts an all-star cast, with Little calling in his famous #twitter friends. So far Lionel Messi, Noam Chomski, Julian Assange and the Dalai Lama have all agreed to be in jokes on the night. THEbullsh*tARTIST is pure showbiz! THEbullsh*tARTIST ends where it begins, with Little extracting the merest morsel of humanity from the hugest pile of bullshit. Englebert Humperdinck has agreed (in principle) to sing us through a game of 'Olympic Love Ball' to elevate the night into a frolicking love frenzied finale. But he has not confirmed!
Mark Little was born in Brisbane, Australia and spent his childhood in rural Queensland. He trained as an actor at the National Institute of Dramatic Art in Sydney. He is best known for his portrayal of Joe Mangel in the soap phenomenon Neighbours where he created one of Ramsay Street's most legendary characters. He received an Australian Television Society Best Actor nomination for his role as Joe. In 1985 Mark was presented with the same award for his portrayal of Ron Miller in The Flying Doctors.
He has appeared in fifteen feature films including An Indecent Obsession and Short Changed. Australian Film Institute nominations for Best Actor have been awarded on two occasions. He played Constable Morris in A Cry in the Dark and the lead role of Boady in the highly acclaimed, Nirvana Street Murder.
Settling in Britain in 1992, Mark hosted Channel 4's The Big Breakfast. He had previously hosted the ABC's Countdown Revolution, Australia's top rating pop show. Mark has presented numerous programmes on British television including his own strand on ITV's Wish You Were Here. He won the Theatre Land edition of The Weakest Link and narrated Sky 1's The Villa.
Mark's theatre appearances have included Costard in Loves Labours Lost, Crispin in A Chorus of Disapproval, Laurie Blake in The Temple and Toad in Wind in the Willows. He played the lead role in Serial Killers for Derby Playhouse. Mark has also celebrated the Australian performance artist, Leigh Bowery, playing him in Taboo in London's West End and again on tour. He has recently completed playing Bottom in Stafford Festival Shakespeare's production of A Mid Summer Night's Dream.
His West End debut was in 1999 in Defending the Caveman' at the Apollo Theatre. The following year Mark was awarded The Olivier Award for Best Entertainment for Defending the Caveman.
Also known for his self-devised work, Mark has devised numerous productions for the Edinburgh Fringe and toured his shows nationally. Mark first presented his 'performance art' in 1979 at Melbourne's emerging comedy clubs and performed Flabbadadabbadadaddyo at Melbourne's inaugural Comedy Festival in 1987. Mark has always designed his own sets. He refers to his sets as Installations. Mark received the Paramount Comedy Award in Edinburgh for Psychobubble in 1997.
In March 2005, Mark returned to Australia where he reprised the character of Joe Mangel. He has recently presented and scripted The Mozambique Poo Tour, a film dealing with sanitation problems and solutions in the developing world. He recently hosted the successful Mark Little's Raw Talent Rodeo in his adopted home of Brighton and Hove and for the first time exhibited his visual art in Brighton's Festival of Artist's Open Houses. He was a contributing artist in Cath Farr: The Art of Fun, the winner of Best Open House 2008.
Mark has been a regular panellist on Channel 5's The Wright Stuff since 2009. He recently appeared on Celebrity Masterchef and on the BBC sitcom, Whites.
In 2011, Mark returned to Australia where he collaborated with Cath Farr on a visual art exhibition at Penrith Regional Gallery entitled Do Not Panda. He also scripted, directed and co-produced his first digital comedy film entitled Robin which is posted on his website. Mark is currently busy on the comedy circuit.