Marcus Brigstocke
Marcus Brigstocke: The Brig Society
Stand-up
9:10pm (1 hour)
2-12 & 14-25 Aug 2012
12 - 14
This is a 2012 show that has now finished.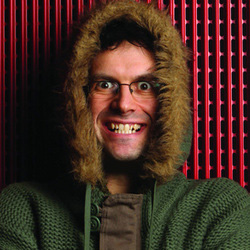 Show details
Stand-up show starring Marcus Brigstocke performed on the following days in August 2012...
Mon
Tue
Wed
Thu
Fri
Sat
Sun
01
2
3
4
5
6
7
8
9
10
11
12
13
14
15
16
17
18
19
20
21
22
23
24
25
26
27
28
29
30
31
Venue details
No less than the total restructuring of every aspect of life in Britain organised through the medium of jokes. See this show: Win! a free hospital or school! Second prize: a major High Street bank.
Share this show
Reviews
Press coverage
Full press release
One of Britain's finest comedians and broadcasters, Marcus Brigstocke is taking his hotly anticipated new show The Brig Society to the Edinburgh Fringe Festival this year. The award-winning comedian is a firm favourite with festivalgoers and his new show promises to be as quick-witted as his much loved catalogue of work. Marcus will be performing nightly at the Assembly Hall: Rainy Hall at 9:10pm.
The Brig Society will, through the persuasive medium of jokes and anecdotes tackle the trivialities and complexities of life with joyful silliness and vengeful ire and it will change the world.
This is The Brig Society. An invitation to re-engineer all the crappy systems that don't help us to be happy, and live well and listen to good music and dance and eat whatever cheese we want to eat...
Marcus's talent was noted early on in his career in 1996 when he won the BBC New Comedian Award at the Edinburgh Festival. He is now regarded as a major comedy, writing and acting talent, performing stand up nationally to sell out audiences around the UK and globally at international comedy festivals.
BBC Radio 4 has become somewhat of a second home to him with regular appearances on The Now Show and Just A Minute, and he has notched up an impressive list of TV credits including team captain on Argumental (Dave) and the host of BBC Four's The Late Edition and I've Never Seen Star Wars.
Marcus is the king of satirical comedy. There's not much that hasn't come under his comedic gaze with blisteringly funny results. This is The Brig Society.
---
Tweets by marcusbrig