Lucy Porter
Lucy Porter - People Person
Stand-up
5:15pm (1 hour)
2-12, 14-19 & 21-26 Aug 2012
10
This is a 2012 show that has now finished.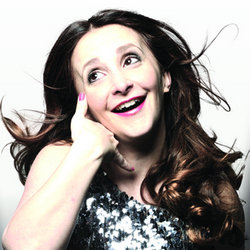 Show details
Stand-up show starring Lucy Porter performed on the following days in August 2012...
Mon
Tue
Wed
Thu
Fri
Sat
Sun
01
2
3
4
5
6
7
8
9
10
11
12
13
14
15
16
17
18
19
20
21
22
23
24
25
26
27
28
29
30
31
Venue details
Since her first solo show - 10 years ago - Lucy has consistently enjoyed critically acclaimed, sell-out festival runs. She has established herself as a Fringe favourite, is a regular voice on Radio 4 and has featured on TV shows such as Mock the Week, Have I Got News for You and Never Mind the Buzzcocks. In her brand-new hour of stand-up, Lucy asks whether human beings are intrinsically good or evil. 'Great gags and superbly worked material' (Edinburgh Evening News). 'Charmingly twisted, articulate and witty' (Sunday Times). www.lucyporter.co.uk.
Share this show
Reviews
Press coverage
Full press release
Fringe favourite Lucy is back with a brand-new show, People Person. She is also celebrating her fifteenth year of performing at the fringe (this is the part where you're meant to say 'but she doesn't look old enough!')
People Person is a guide to the human condition that draws on Lucy's academic background as a student of social anthropology, and her social background as a party animal.
As a comic on the international circuit, Lucy has met thousands of people. Now that she's no longer such a road-dog, Lucy has discovered that there are equally fascinating folk closer to home. This show combines extraordinary stories in exotic locations with similarly startling tales from the more mundane domestic sphere. You'll hear how Pamela Anderson tried to get Lucy killed in Vegas, and how a more recent criminal plot unfolded in a Camden Town hairdresser's.
Underpinning Lucy's personal experiences will be some of the most fascinating data from the world of Social Anthropology. Lucy studied the subject at University, and this show establishes her as the Desmond Morris of the comedy circuit. She'll tell you what George Osbourne could learn from the Amazonian Nukaks, introduce you to the Rolling Stones of the South Pacific and present My Big Fat, Mbuti Pygmy Wedding.
Key questions explored during the hour will include: Are human beings inherently good or bad? Is it better to be lonely or surrounded by twats? Is Gloria Hunniford the principal cause of post-natal depression?
We'll also find out whether all human beings essentially want the same things. Research commissioned for Radio 3's Free Thinking Festival suggested that all British people are at their happiest lying on a sofa eating pizza. Lucy will make that dream come true for her audience.
The same research also showed that the most contented people in the UK earn £40,000 a year and live in Norwich. Incredibly, Lucy will also try to make that dream come true for one lucky punter.
Lucy has been absent from Edinburgh for the last two years, as she decided to produce children instead of fringe shows. She has spent 18 of the last 24 months pregnant. Despite this intensive spawning schedule, Lucy continues to have a strong presence on radio. She can be heard in the current series of The Unbelievable Truth and Life: An Idiot's Guide, and has also been commissioned by Radio 4 (along with co-writer Catherine Shepherd) to develop a sketch show. You may also have heard her co-presenting the magazine show What's So Funny? on BBC Radio 4 Extra. TV wise she featured heavily on BBC2's I'm in a Boy Band!, I'm in a Girl Band! and I'm a Pop Star! despite the fact that she is tone deaf and failed grade 3 piano.
---
Tweets by loonabimberton