Long and Short
The Long and the Short of It
Spoken Word
1:40pm (1 hour)
4-12, 15-19 & 21-25 Aug 2012
Free
This is a 2012 show that has now finished.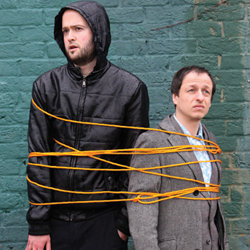 Mon
Tue
Wed
Thu
Fri
Sat
Sun
01
2
3
4
5
6
7
8
9
10
11
12
13
14
15
16
17
18
19
20
21
22
23
24
25
26
27
28
29
30
31
Venue details
In an Olympic year, a short man from Essex and a lanky Yorkshireman will take you on a long-distance run covering more or less every vital topic on Earth. With tongue more often than not in cheek, performance poets Richard Purnell and Gary From Leeds jog through the issues that really count: food, death, gyratories and fonts. Expect lists, limericks and adroit statistics. And short poems from the long one, and long ones from the short one. 'Contempt and joy' (Londonist.com). 'Unmistakeable quality' (FringeReview.co.uk).
Share this show
Full press release
Ever wanted to write a poem but felt intimidated by haughty bastards like TS Eliot and Philip Larkin? Ever wondered if that misspelled, yet striking curse scrawled on a toilet wall was a worthy subject for verse? Ever wanted to spend the better part of an hour with a fun-sized Essex boy-man and a lanky, dour Yorkshireman?
If the answer to any of those questions is 'maybe' The Long and the Short of It is a must-see.
Gary From Leeds, from Yorkshire, and Richard Purnell, from Essex, are setting themselves up in business as poetry consultants with a mission to remedy the Edinburgh public's poetry predicaments. And, for what it's worth, they'll also be covering off the most important, pertinent topics on earth, in verse.*
Richard Purnell said: "I hate Wordsworth as much as the next right-thinking human being, but poetry doesn't have to be eye-wateringly boring. We're in Edinburgh to launch our solution-based, 360 degree consultancy to show the real need for more people to join the poetry fraternity. And the tongue will be firmly in cheek, so to speak."
Purnell and Leeds first came together for a sell-out run at the 2010 Camden Fringe. With spoken word having its own section in the Edinburgh Fringe programme for the first time, they feel the conditions are right for them to trot up to the Scottish capital with their rhymes.ǂ
Gary From Leeds adds: "We feel like we're part of a group of pioneers, bravely challenging both audience boundaries and our own fears. Poets have too-long been a quiet, self-effacing bunch, so to be allowed to speak words in an official capacity feels like emancipation for all of us. But just come to our show."
*Including toast toppings, perma-tanned Match of the Day presenters, and death.
ǂSome poems in the show don't rhyme, you may find. And, don't be dismissive, those that do may be of a marginally higher standard than in this pan-media missive.
Credits