AAA Stand-Up Late
AAA Stand-Up Late
Stand-up
11pm (1 hour)
1-27 Aug 2012
9 - 10
This is a 2012 show that has now finished.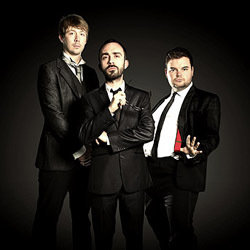 Mon
Tue
Wed
Thu
Fri
Sat
Sun
01
2
3
4
5
6
7
8
9
10
11
12
13
14
15
16
17
18
19
20
21
22
23
24
25
26
27
28
29
30
31
Venue details
Total sell-out 2010-2011, returns with a brand new line-up. Lloyd Griffith, 'The next big thing' (FHM). 'Inherently funny ... very neat lines in his comic repertoire' (Chortle.co.uk). Tommy Rowson, winner So You Think You're Funny? 2011. 'Great lines ... you can't take issue with the judge's decision to award gold to this cool customer' (Chortle.co.uk). Tom Webb, ThreeWeeks Editors' Award winner 2011. 'Hilarious... A comedy treat' (Edinburgh Evening News). 'Ingenious and fresh' (Time Out). Book early!
Share this show
Reviews
Press coverage
Credits
Visitor reviews

ann orac
I went to see this on the 16th as the Horne Section was cancelled. It was dire, and the worse thing I have ever seen. If these "comics" think that not being able to spell Darlington is funny, or that using the C word hilarious, or the fact that Nick Clegg is handsome is amusing, then they clearly don't see that doing stand up well actually needs good material. I walked out, it was utterly boring and embarrassingly unfunny crap, for which I wasted £18, and more importantly almost a hour of my life. The funniest thing was what my companion said on the way out!