Les Clochards
Les Clochards: Dirty But Nice
Music
7:30pm (1 hour)
2-12, 14-19 & 21-27 Aug 2012
5
This is a 2012 show that has now finished.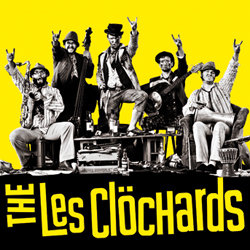 Show details
Music performed on the following days in August 2012...
Mon
Tue
Wed
Thu
Fri
Sat
Sun
01
2
3
4
5
6
7
8
9
10
11
12
13
14
15
16
17
18
19
20
21
22
23
24
25
26
27
28
29
30
31
Venue details
UK debut for five part-time hobo, performing songs you thought you knew with shameless rock star habits, high energy facial and instrumental acrobatics, in shabby suits, served tasty like a slightly aged Corsican camembert. The cheapest and dirtiest musical ever produced(?) is an audiovisiual orgasm for those who like to pick their strawberries a little further away from the forest path. This slugfest of musical comedy and rock'n'roll is an attack on eyes, ears and abdominals that will take Edinburgh by storm.
Share this show
Visitor reviews

AreWeThereYet
Saw them earlier tonight - worth every penny. You'll never hear Madonna again without thinking of stylophones. Just go, enjoy, tell your friends. I'd give it nine stars if I could.