John Van Der Put
Piff the Magic Dragon in ... Jurassic Bark
Magic
7:10pm (1 hour)
1-26 Aug 2012
10 - 11
This is a 2012 show that has now finished.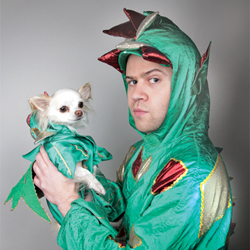 Show details
Magic starring John Van Der Put performed on the following days in August 2012...
Mon
Tue
Wed
Thu
Fri
Sat
Sun
01
2
3
4
5
6
7
8
9
10
11
12
13
14
15
16
17
18
19
20
21
22
23
24
25
26
27
28
29
30
31
Venue details
It's 2012 - the Year of the Dragon - and Piff's back! But more importantly, so is Mr Piffles! Can the World's First Million Dollar Chihuahua (TM) cheat death on a nightly basis as he is laminated live on stage, escapes a flaming straight jacket and flies from the cannon of certain death. Book early to avoid disappointment. Total sell-out 2011. As seen on BBC, ITV, C4 and C5. 'Cute, inspired and very funny' (Time Out). 'A stand out act.' (Metro). 'An hour with Piff is priceless' (List). 'A stunningly good magician.' (Penn & Teller).
Share this show
Reviews
Full press release
Penn & Teller's favourite imaginary creature Piff the Magic Dragon and his assistant Mr Piffles, the World's First Magic Performing Chihuahua™, will return to the Edinburgh Festival Fringe with a new show this August at the Pleasance Dome 1 - 26th August 2012 at 7.10pm.
Regarded as "unbelievable" (BBC1) "jaw-dropping" (The List) "side-splitting" (ArtsHub) "cute, inspired and very funny" (Time Out) and a "stand out act" (Metro). No less an authority than Penn & Teller (who fell in love with the pair on 2011's Fool Us) described the dragon as "a stunningly good magician".
In the past few months Piff has appeared on Amnesty's Secret Policeman's Ball at Radio City Music Hall and opened to a crowd of 10,000 for Mumford & Sons who cite Piff as their very favourite magic dragon. Clearly, they have something going for them.
Piff and Mr Piffles return to Edinburgh this year with a wholly new show, entitled Piff the Magic Dragon in ... Jurassic Bark. As is clear from the title, the focus has shifted to the long-suffering Mr Piffles, who will nightly undergo the indignity of being levitated, laminated and fired out of the Cannon of Certain Death. In addition, he'll be expected to escape from a flaming strait-jacket, whilst watching his grumpy on-stage partner dazzling the crowd with stunning magic and delightfully deadpan banter.
Piff the Magic Dragon in ... Jurassic Bark is everything you'd not expect from most magic shows: i.e. the magician doesn't get up your nose by being a smug smart-arse, who clearly turned to magic because he was bullied in the playground and spent too long in his bedroom (cf Paul Daniels). Or as The Skinny more pleasantly put it, Piff is "the last of his species: a card trickster who is funny".
Clips of the act have scored over 2,000,000 hits on YouTube, and unlike most 2,000,000-view successes (man sets light to fart under duvet), this is the real deal: Piff and Mr Piffles are genuinely distinctive, funny, entertaining and engaging. Take a look...
TAKING THE PIFF - ACCEPT NO IMITATIONS
But recently a Ukrainian magician stole Piff the Magic Dragon's act wholesale and passed it off as his own on a Russian national television. Andriy Chekanyuk, a 22-year-old from Kiev, appeared on a Russian TV show called Surprise Me! with an exact duplicate of the act that Piff performed on Penn & Teller's Fool Us on ITV1 back in July 2011. Chekanyuk appears in a replica dragon outfit, with a animal sidekick. While Piff has a Chihuahua called Mr Piffles, Chekanyuk has a guinea pig called... Mr Piffles. Otherwise the props, magic and jokes were a carbon copy:
---
Tweets by thepiff