John Robertson: Old Whore
John Robertson: The Old Whore
Storytelling
10:15pm (1 hour)
2-26 Aug 2012
5
This is a 2012 show that has now finished.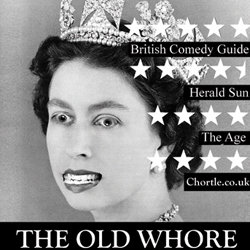 Show details
Storytelling starring John Robertson performed on the following days in August 2012...
On 6th and 7th tickets are two for one.
Mon
Tue
Wed
Thu
Fri
Sat
Sun
01
2
3
4
5
6
7
8
9
10
11
12
13
14
15
16
17
18
19
20
21
22
23
24
25
26
27
28
29
30
31
Venue details
In 1950, John Robertson slept with Queen Elizabeth II. He is not sorry. Can a man sow his seed in the ashes of a dynasty? This is 'brilliant, brutal, bizarre and poetic' (Metro) stand- up from the manic Australian wunderkind. 'Brilliant' **** (Comedy.co.uk). **** (Chortle.co.uk). **** (ThreeWeeks).
Share this show
Reviews
Full press release
John Robertson is the comedian you deserve.
In 1950, John Robertson slept with the Queen. He is not sorry. Can a man sow his seed in the ashes of a dynasty?
The whole shameful odyssey is such an involved, affecting love story, on a par with West Side Story and Romeo & Juliet, that he will only be revealing the truth of the issue 22 times and for money.
The Old Whore is the new RiotShow (a surreal monologue with additional yelling) from John Robertson, the whimsically brutal, bright- as- a- button Australian dandy responsible for Blood & Charm, Dragon Punch! and A Nifty History of Evil.
John Robertson is a surreal storyteller who takes words and historical events and makes them his playthings. They play brutally, movingly and in a dark and mysterious fashion. You will laugh at the weaving of lies and the unravelling of John's brain. This is manic depression without the depression.
A comedian, journalist, clown and host - in the last eight years, John has performed everywhere from a rained- out bomb shelter in Hungary, to legendary comedy clubs in London and packed theatres in Sydney. He's had fans dress as him, been concussed by well-meaning punters and brought the riot- times wherever he's gone.
Capable of just about anything, John has MC'd and performed at events as diverse as the Edinburgh Fringe, the Supanova Pop Culture Expo, Wai-Con - The Western Australian Anime Convention, the Under The Blue Moon Goth Festival. To the best of his knowledge, he is the only Australian comedian to have ever interviewed a Dalek.
This orgy of facts and fictions is a stream- of- consciousness alternative history ramble which is currently varying wildly between "Jesus Christ, John, I didn't think I got it when I saw it the first time but now I think I really know what it's about" (young people) and "this is gibberish!" (everyone else).
Visitor reviews

Anzac
I'm originally from Sydney, Australia and was thrilled to see one of my countrymen was performing here at the Fringe! My husband and I are both BIG fans of comedy and thought Edinburgh would be a great place to spend our honeymoon. We both really enjoyed this show the other night, it was very different from other shows we had seen previously, highly interactive, I laughed, I avoided being sweated upon unlike one poor girl near the front in the 'splash zone' and despite taking a while to tune in to what was happening as his quick fire delivery had me struggling to keep up at times. I realised it was a number of stories being told and each had to be told before you could understand the over all theme, miss one tale and you may miss the point! Fortunately there were lots of call backs and flashes of past quotes to remind us all quite literally where this had all started. Lovely show, really lovely. I would urge any prospective audience members to keep their wits about them though, as Jon made it quite clear that he did not suffer fools. Even Jim Jeffries (whom we saw the night before) copped an earful as Johnno performed outside the Assembly rooms in the street. Brilliant show, not for the faint hearted or the weak minded!