Jody Kamali
Jody Kamali: Dirty Filthy Rich - Free
Sketch show
4pm (1 hour)
2-12 & 14-26 Aug 2012
Free
This is a 2012 show that has now finished.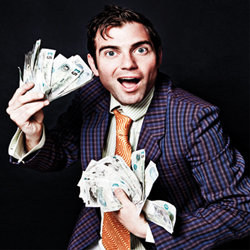 Show details
Sketch show starring Jody Kamali performed on the following days in August 2012...
Mon
Tue
Wed
Thu
Fri
Sat
Sun
01
2
3
4
5
6
7
8
9
10
11
12
13
14
15
16
17
18
19
20
21
22
23
24
25
26
27
28
29
30
31
Venue details
Do you wanna be rich? A silly, interactive, multi-character show that aims to get you filthy rich and spiritually enlightened. 'He is without doubt a very accomplished character comedian ... a beautiful mickey take of this genre' (One4Review.com). 'Hilariously funny' (Venue). 'Ridiculously fun' (ThreeWeeks).
Share this show
Full press release
After sell-out Edinburgh shows in 2007, 2008 and 2011, Bristolian / Iranian YouTube Star and character comedian, Jody Kamali is back with an all new multi-character comedy show that aims to get you filthy rich... in one hour!
Dirty Filthy Rich is a ridiculous money-making masterclass, where one person will walk away with £1,000,000 EVERY DAY. Could it be you?
As Simply Red once said, 'Money's too tight to mention' - it doesn't have to be that way! Come and let's get dirty, filthy, rich!
In Dirty Filthy Rich, Jody takes on the guises of:

Rages to riches, Doug Wigan - Wigan's 2nd greatest export, entrepreneur and multi-millionaire (in-waiting). "I started in business stealing sweets from kids then selling them back to Haribo."
Jim Rooney - NBC's Money expert - he'll tell ya what to buy and what to sell!
Exiled Iranian Guru, Michael Sultani - Healer, Author of I Ran Away: "'I thought it would be spiritually enlightening to walk on hot BBQ coals. I have since been banned from Nandos."

Jody Kamali is a prolific, up and coming character comedian, best known for his sensational hit online character Terry The Odd Job Man which has a huge online following in the West Country and has had sell out character comedy shows at the Edinburgh Festival shows in 2007, 2008 and 2011.