Jessie Cave
Jessie Cave: Bookworm
Storytelling
2:30pm (1 hour)
2-12 & 14-26 Aug 2012
9 - 10
This is a 2012 show that has now finished.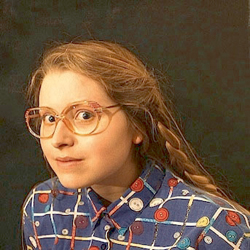 Show details
Storytelling starring Bebe Cave and Jessie Cave performed on the following days in August 2012...
Mon
Tue
Wed
Thu
Fri
Sat
Sun
01
2
3
4
5
6
7
8
9
10
11
12
13
14
15
16
17
18
19
20
21
22
23
24
25
26
27
28
29
30
31
Venue details
Welcome to Book Club. High levels of effort have gone into making this the best Book Club session in the history of Book Club sessions. Your host is Jessie Cave, fresh from worming her way into the Harry Potter films. She would like to share with you five of her five most inspirational fictional characters and promises you a fun ride, via specially selected and thoroughly researched wizards, vampires, elephants, giant beavers and twins. Refreshments provided for fellow bookworms.
Share this show
Reviews
Press coverage
Full press release
Star of the Harry Potter films and Mike Newell's forthcoming adaptation of Great Expectations, Jessie Cave brings her debut comedy show, Bookworm, to the Edinburgh Fringe.
Having developed an ardent, vociferous following in London, Jessie - a preserver of the noble art of reading - is opening the doors to her non-fictional but fictional Book Club 'Bookworms United' and welcomes you to join her as she travels through some of the finest female literary characters known to man, whether they be elephants, beavers or computer hacking vampires.
She would like to share with you the inspirational fictional characters that have shaped her formation as a semi-capable woman and who have led to her creating what she believes is the best Book Club in the history of Book Clubs.
Jessie is a writer, performer and illustrator. She played Lavender Brown in the Harry Potter film series, and will play the role of Biddy in Mike Newell's adaptation of Charles Dickens' Great Expectations alongside Helena Bonham-Carter, Ralph Fiennes and Jeremy Irvine, due for release in Autumn 2012.
Jessie founded www.pindippy.com, a home for comedy sketches and illustrations that has featured the likes of Evanna Lynch, Katie Leung and several other Potter co-stars. She devised Project Amstell, an online series with Simon Amstell for The Guardian looking at his foray into the world of social media, whilst she appeared in his BBC2 series Grandma's House as the bespectacled Zazzie.
Alongside her comedy work, Jessie is an OFFIE award winning theatre actress, and she recently played the lead in the Riverside Studio production of Mary Rose. Bookworm will also feature Jessie's sister, Bebe Cave, herself an actress who will appear as 'Young Biddy' in Great Expectations, and in ITV comedy Mrs Biggs later this year.
---
Credits
Tweets by pindippycave