Louise Ford
Jenny Fawcett
Stand-up
12:50pm (1 hour)
1-12 & 14-27 Aug 2012
8 - 8.50
This is a 2012 show that has now finished.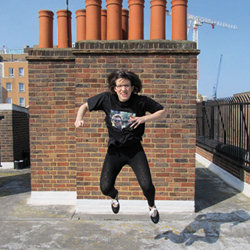 Show details
Stand-up show starring Louise Ford performed on the following days in August 2012...
On 6th and 7th tickets are two for one.
Mon
Tue
Wed
Thu
Fri
Sat
Sun
01
2
3
4
5
6
7
8
9
10
11
12
13
14
15
16
17
18
19
20
21
22
23
24
25
26
27
28
29
30
31
Venue details
I'm doing a show at the Pleasance Cellar. To find out more information come along. That said, if you are the kind of person who has to know a few things in advance (a know-it-all), the following topics may get discussed... Look, I can't guarantee anything. Turn away if you'd rather it was a surprise. Potato skins, lust, my Auntie Sandra, matters of the heart, cruising (at sea), Terry Bince - notorious pervert - tap dancing, sketching, a man's leg from memory. **** 'Sheer joyful silliness' (List). **** 'Steals the show' (Telegraph). 'Bliss' (Independent).
Share this show
Reviews
Full press release
Jenny Fawcett is delighted to bring her debut show to the Edinburgh Festival Fringe.
And what a show!
Marvel as she draws a man's leg from memory; as she teaches you how to tap-dance away from bullies, and as she re-enacts the moment she first saw the love of her life, Peter Dink. Learn about her best friend Auntie Sandra; Terry Bince, "notorious pervert", who had a pervert's eyes, and Sally Plimpton, the Brown-Owl who was jealous of Jenny's long legs and blew on her face until she cried. Weep as Jenny talks you through the wilderness months of 2010 when her obsession with foxybingo.com led to her arrest, and almost ruined her life. But, most importantly of all, come and get to know Jenny.
Louise Ford performs tap-dancing character stand-up that has to be seen to be believed.
As one half of the comedy duo Ford and Akram, Louise has quickly become a favourite on the London comedy circuit. Taking inspiration from amongst others, Steve Coogan, Julia Davis, and The League of Gentleman, Louise has created her first solo show, Jenny Fawcett, starring a character who, against their better judgement, everyone can't help but fall in love with.