James Beckett & Mark Dixon
The Super Silent Secret of Cribbage
Stand-up
7:45pm (1 hour)
5-9 & 12-16 Aug 2012
Free
This is a 2012 show that has now finished.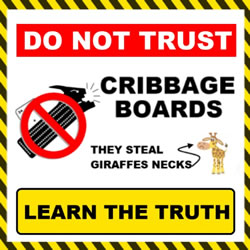 Mon
Tue
Wed
Thu
Fri
Sat
Sun
01
2
3
4
5
6
7
8
9
10
11
12
13
14
15
16
17
18
19
20
21
22
23
24
25
26
27
28
29
30
31
Venue details
Alternative performances
James Beckett (Laughing Horse New Act of the Year 2012 Semi Finalist, Beat the Frog Winner, Mr Ben's Gong Show Winner) & Mark Dixon (A man with diabetes) guide you through an untold journey that time and reason long forgot.
Share this page
Full press release
The Super Silent Secret of Cribbage is a unique comedy show which attempts to raise awareness about an issue that doesn't really exist.
Join James Beckett and Mark Dixon as they share an extraordinarily bizarre secret with their audience, using partial theatre performance and partial traditional stand up comedy to deliver their message. Publicity will be presented in the form of health and safety style warning signs, asking the public to remain calm and not approach any Cribbage Boards. The show is presented in a similar manner to begin with but eventually develops into a peculiar shambles of logic and reasoning.
James Beckett is afflicted with a stammer and Mark Dixon is a diabetic, both of these aspects about each of the performers comes into play throughout the show.
The show was performed at the Leicester Comedy Festival twice, and positive feedback was received from audience members and fellow performers alike.
Performer Bios
James Beckett has been performing since Feb 2011, since performing he has achieved Laughing Horse New Act of the Year 2012 - Semi Finalist, Beat the Frog Winner & Mr Ben's Gong Show Winner.
Mark Dixon has been performing since July 2011 and is looking to begin entering new act competitions.