Robert Inston
In Vino Veritas - Free
Satire
2:45pm (1 hour)
3, 5-10, 12-17, 19-24 & 26 Aug 2012
Free
This is a 2012 show that has now finished.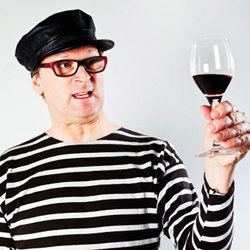 Show details
Satire starring Robert Inston performed on the following days in August 2012...
Mon
Tue
Wed
Thu
Fri
Sat
Sun
01
2
3
4
5
6
7
8
9
10
11
12
13
14
15
16
17
18
19
20
21
22
23
24
25
26
27
28
29
30
31
Venue details
Fringe favourite Robert Inston now returns to reveal a tongue loosened by wine. Poor Latin scholar he may be, but he knows he's embedded in the leisure industry - the sight, the smell, and the consummations. Using Freudian and other more dangerous theories, he eloquently rages at abstinence of any kind, and the empathy starved aspects of the way we live now. Using his installation - a table of various items including wine and absinthe - he physically and emotionally ensnares, and will certainly need one audience member to fasten his apron! 'A very talented performer' (Chris Hislop).
Share this show
Reviews
Full press release
Robert is a very experienced, in more ways than one, wine taster. Seven years in wine, hospitality & experiencing another side of life as a result of this exposure to strangers... seven years of playing Edinburgh, Brighton and London, combine to give an array of characters all within one man. Come along to meet the many faces of this talented man, decide for yourself, who is the real Robert Inston?
In his own and other lyrical voices, Robert will take you on a "systematic" journey to taste and reveal the truth of wine, his life and our own. Re-acquaint yourself with Blanche Dubois of Tennessee Williams fame or introduce yourself to her, meet Pierre the enigmatic Frenchman from Bordeaux, also introducing Rebecca the New York iron lady with attitude, but thoroughly aware of good Customer Service! However you imbibe you will learn how to slurp, and most importantly, take your time. Then, of course, you can demand the very best possible customer service New York style!
If you've already seen Robert as our dear Queen Bess you will know that absinthe makes the heart grow fonder. If you haven't, come and see him in his new personas and raise a glass with him, maybe by becoming part of it all in more ways than one! In the words of the great pop man let him entertain you!!!