Hedluv & Passman
Hedluv and Passman: Two Cornish Rappers and a Casiotone
Music
12:30am (1 hour)
2-14 & 16-28 Aug 2012
10 - 11
This is a 2012 show that has now finished.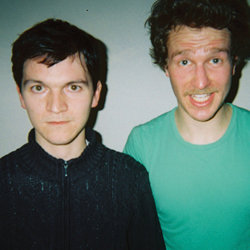 Show details
Music that was performed at Gilded Balloon Teviot at 12:30am for 1 hour, on the following days in August 2012.
Mon
Tue
Wed
Thu
Fri
Sat
Sun
01
2
3
4
5
6
7
8
9
10
11
12
13
14
15
16
17
18
19
20
21
22
23
24
25
26
27
28
29
30
31
Venue details
Alternative performances
The best thing to come out of Cornwall since tin. 'These Cornish casio rappers will blow you away! Who would have thought that such energy and excitement could come out of a small village in the west country. These guys are a hilarious riot of bleeps and banter. And apparently massive in Brazil!' (Farmfestival.co.uk). 'Blending simple, homemade beats with witty observations, they cover everything from the wonders of the internet, the joy of Tetley tea and day-to-day life in their hometown of Redruth' (Edenproject.com). 'Anyone who's seen them live will know that the duo are a visual and aural delight' (247magazine.co.uk).
Share this page
Reviews