Chopper
Heath Franklin's Chopper in A Hard Bastard's Guide to Life
Stand-up
8:50pm (1 hour)
1-19 Aug 2012
7 - 11
This is a 2012 show that has now finished.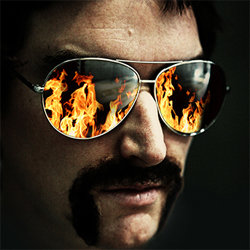 Show details
Stand-up show starring Heath Franklin performed on the following days in August 2012...
Mon
Tue
Wed
Thu
Fri
Sat
Sun
01
2
3
4
5
6
7
8
9
10
11
12
13
14
15
16
17
18
19
20
21
22
23
24
25
26
27
28
29
30
31
Venue details
Australia's Most Wanted comedian and comedy icon, Chopper is headbutting his way back to Edinburgh. From the Olympics to anal bleaching, mangoes, Switzerland, to anti-smoking ads, nothing's safe from a punch in the soft guts by the International Ambassador of Hard. So take off your skirt, and grow a moustache. It's no-holds-barred, and no bars to hold him back, so jump bail, skip parole and tell your alibi to take the night off. As seen on the Ronnie Johns Half Hour, and now live, and in stabbing distance.
Share this show
Reviews
Press coverage
Full press release
Australia's 'Most Wanted' comedian, Chopper, is head-butting his way to The Edinburgh Fringe with a show that promises to pack more wallop than a three-legged wallaby.

Since the dawn of time, Man has questioned the origin and meaning of his existence. Work? Relationships? Justin Beiber? And so here we are, in the middle of a self-congratulatory, bargain-priced, capitalist-induced anxiety wank storm. Don't look that up, Chopper just invented it. A Hard Bastard's Guide to Life is a comprehensive hit-list on how not to just survive, but thrive in a modern world that thinks it's better than it is (internet, looking at you). With Chopper's easy step-by-step guide, you'll learn how to punch Life in the guts, take compromising photos of its wife and watch it cry as it hands over the keys to your future.

'Chopper' is the foul-mouthed creation of multi-award winning actor, comedian, improviser and writer Heath Franklin. Think Dame Edna with a moustache and a criminal record. He first appeared on Network Ten's The Ronnie Johns Half Hour, and since then has sold over 200,000 tickets worldwide and racked up millions of YouTube hits. He was even voted an Australian cultural icon. Most recently, he starred alongside Flight of the Conchords' Jemaine Clement and musician Tim Finn in 2011's feature The Predicament. Now catch him live, and in stabbing distance, as the International Ambassador of Hard shows you how a little conviction brings out the convict in all of us.