George Ryegold
George Ryegold's God-In-A-Bag
Storytelling
1:45pm (1 hour)
1-12 & 14-27 Aug 2012
6 - 10
This is a 2012 show that has now finished.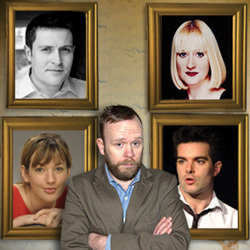 Mon
Tue
Wed
Thu
Fri
Sat
Sun
01
2
3
4
5
6
7
8
9
10
11
12
13
14
15
16
17
18
19
20
21
22
23
24
25
26
27
28
29
30
31
Venue details
The winner of Best Show at the Leicester Comedy Festival 2011 reveals a different side to everyone's favourite doctor - a precarious love life, an enduring friendship and a dangerous, earth-shattering new theory. Starring Toby Williams, Hattie Hayridge (Red Dwarf), Dan Mersh (Fresh Meat), Lindsay Sharman and Milo McCabe. 'Tremendous fun... it's stuff like this that makes the Fringe great' ***** (ThreeWeeks). **** (Scotsman). **** (List). **** (Scotsgay). **** (Fest). **** (Chortle.co.uk).
Share this show
Reviews
Full press release
George Ryegold is back at the Edinburgh Festival Fringe in the Underbelly, Bristo Square alongside Hattie Hayridge (Red Dwarf), Dan Mersh (Fresh Meat), Lindsay Sharman and Milo McCabe.

Following two successful Edinburgh stand-up shows, Toby Williams now reveals a different side to everyone's favorite doctor in a comedy play charting George's precarious love life, an enduring friendship and a dangerous, earth-shattering new theory.

As the character act Dr George Ryegold, Toby Williams won 'Best Show' at The Leicester Comedy Festival 2011 with The Ordeal of Dr Ryegold which also had sell-out shows in Edinburgh 2010. At the Edinburgh Festival Fringe 2011 Toby co-wrote and starred in the sell-out show The Fudge Shop, winning a Three Weeks Editors' Award. Toby's debut show in Edinburgh 2009, Trample The Weak, Hurdle The Dead, was nominated for The Malcolm Hardee Award for Comic Originality.
Hattie Hayridge performs live stand-up comedy around Britain and all over the world and had barely started on the comedy circuit before she was snapped up to play Holly in the hugely successful BBC2 series Red Dwarf. Her other TV appearances have included Jonathan Creek (BBC1), the American sci-fi series Lexx, as well as Have I Got News For You (BBC2) and The Late Late Show With Craig Ferguson on CBS TV in the US. She is also the proud owner of a Celebrity Mastermind trophy, winning her heat on the Cold War in the 2011 series. Her autobiography, Random Abstract Memory tells from her birth as a suspected appendicitis to her spontaneous leap into comedy, became a one woman show which she performed at one of her regular trips to the Edinburgh Festival. Throughout 2011, Hattie toured live with Rory Bremner and jazz musician Ian Shaw, and had her name emblazoned in brick on Blackpool's Comedy Carpet.
Dan Mersh has just filmed Fresh Meat (Objective/C4), New Tricks (BBC1) and could recently be seen in Being Human (Touchpaper/BBC). Recently he has filmed the feature Foster directed by Jonathan Newman, reprised his role in Coming Of Age (BBC), filmed the new series of Harry & Paul (BBC1) and The Stephen K Amos Show (BBC1) plus a new comedy series The Great Outdoors. Other credits include the feature Swinging with the Finkels, Thank God You're Here (ITV); Jam and Jerusalem, 2 series of 15 Storeys High, People Like Us and Dalzeil and Pascoe all for the BBC. He is part of the comedy sketch group The Trap and also starred in 39 Steps at the Criterion Theatre directed by Maria Aitken. His numerous radio appearances include both series of Space Hacks (BBC Radio 7) and 3 series of Armando Iannucci's Charm Offensive (BBC Radio 4).
Milo McCabe, currently filming a sketch for Live at the Electric for BBC3, is a character comedian based in the UK who performs every weekend at clubs such as The Comedy Store, Glee, Jongleurs, and pretty much everywhere else. This is primarily as his Portuguese alter-ego 'Philberto', a Portuguese reality TV show contestant. Regularly headlining, he also has the rare ability to MC in character as Philberto or any other of his characters... Nobbo Johnson, the ex Aussie Rules star turned art critic; Tyson Moon, son of 70's Irish Comedy legend from the 70's Kenny Moon; Anthony Sixsmith, a new-age healing drummer who uses bongo therapy to cure the ills of one and all; or Q10 the ex-Grimsby fish docks worker turned Scrabble champion. His 2011 Edinburgh show Get Brown was an Amused Moose Laughter Award Runner Up, Time Out Critic's Choice, and Scotsgay Pick Of The Fringe.
Actress Lindsay Sharman has been on the comedy circuit since 2009, and was a finalist in Funny Women 2010. The Edinburgh Fringe 2011 saw her in the free fringe stand-up show Giants of Comedy.
Credits