Fran Moulds
Fran Moulds: Significant Human Error
Stand-up / Sketch show
2:50pm (1 hour)
1-26 Aug 2012
8.50 - 9.50
This is a 2012 show that has now finished.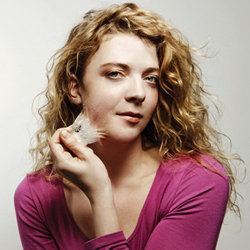 Show details
Stand-up show / sketch show starring Fran Moulds performed on the following days in August 2012...
Mon
Tue
Wed
Thu
Fri
Sat
Sun
01
2
3
4
5
6
7
8
9
10
11
12
13
14
15
16
17
18
19
20
21
22
23
24
25
26
27
28
29
30
31
Venue details
Debut solo show from Radio 4 comedian Fran Moulds, featuring six original characters including Dan Riley, a horndog theologian, Ryan, a base-jumping Aussie legend, Morgana Haught, the celeb correspondent for a liberal broadsheet, and Sarah, the teenager from Bolton who's just converted to Islam. Not controversial. 'Versatile and accomplished' (Chortle.co.uk). 'Beautifully performed. Precise and humane' (Times). 'Talented and extremely funny' (FringeReview.co.uk).
Share this show
Reviews
Press coverage
Full press release
Debut comedy show from BBC Radio 4 character comic Fran Moulds. Significant Human Error is a show about mistakes and change, told through six hilarious and original characters.
Samantha Powell - welcoming you to a Welsh Mining Museum, at which there is no overt political agenda and no problems whatsoever. Dr. Dan Riley - Christian academic and former rock drummer, Dan presents his radical theories. Sex is a conversation, is a conversation he wants to have with you. Timalana Giovanni - story workshop your Story. Everyone has a Story. What is Story? Story is me. Story is all of us. Ryan Dawlish - base-jumping and climbing legend, Ryan has funded his own DVD, Ryan's Rocks: Ryan Rocks. Can Ryan handle the adrenalin of a crippling financial loss? Sarah Leather - a teenager from Bolton who has converted to Islam. Her weekly YouTube video diary is full of top tips for girls like her. Morgana Haught - highly-educated celeb correspondent of a liberal broad sheet loves herself except when she hates herself; feminist except when women make elementary fashion errors.
Fran Moulds is a writer, actress and comic performer. She gigs regularly on the character comedy circuit and was a member of the Umbrella Birds, a critically acclaimed, four-woman sketch group, also starring in their BBC Radio 4 series, The Ladies.
Fran's extensive work in theatre includes a number of shows with award-winning, internationally acclaimed immersive theatre company punchdrunk. She has also performed in events with gaming agency Coney and four shows with multinational storytellers YouNeedMe, with whom she is a core member. Fran trained with the Company Song of the Goat in Poland and at LISPA (London Institute for Performing Arts). The show is directed by Adam Brace.