Noise Next Door: 24 Hour Improv Adventure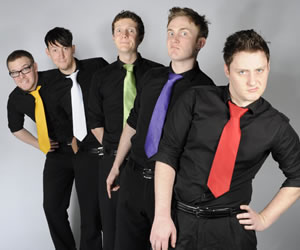 The Noise Next Door, the slick and sharp improv group known for their trademark coloured ties (who must surely be set for TV stardom in a few years' time, a topic we'll probably write about separately later in the year), are currently undertaking a 24 hour 'improvised adventure' around the Fringe.
They started yesterday and are due to finish tonight at 7pm. The parameters of the five young comics' adventures are decided by the public. As they improvise their way around the city they've been asking for suggestions of what they should do next, where they should do it, and the style they should perform it in.
One of the BCG team, heading back from a bar about 4am last night, spotted them out-and-about around the Bristo Square area with some rollerskates in hand, so they are certainly moving about the city.
---
September Update: Here's the full video:
To find out more about the group visit www.thenoisenextdoor.com
Or chat to them on Twitter: @noisenextdoor