Michael Workman & Tommy Little - Edinburgh Blog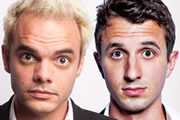 Michael Workman and Tommy Little, two of Australia's best comedians, are at the Edinburgh Festival performing a stand-up show together.
Tommy, labeled the 'future of funny' by Beat Magazine, has spent the last few years living every young comics dream - hosting his own comedy talk show on Melbourne TV. He is also compeering Late'n'Live on Sunday nights during the festival. Meanwhile Michael, the 2011 Melbourne International Comedy Festival Best Newcomer, has picked up the 2011 Sydney Fringe Award for Excellence and this year's Adelaide Fringe Award for Best Comedy.
The duo share their thoughts on performing in a city a long way from home in these blogs...
---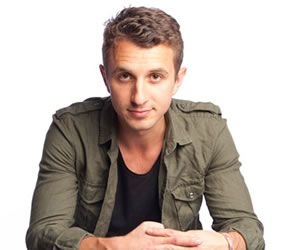 Tommy Little
I've flown to the other side of the world to tell a bunch of strangers some jokes about almonds and Monopoly. Life is silly.
Already I've experienced sunburn followed by unrelenting drizzle that left me sodden to my soul. I've played to a crowd of 20 people followed just an hour later by a crowd of 200. I've had a man tell me to "f*** off!" when I tried to ask directions, thinking I was trying to flyer him. When I told him I was lost he apologised and kindly offered me directions. I thanked him and offered him a flyer, that night he came to my show.
As time passes I'm beginning to realise what I had originally thought was a confused haze of jetlag is actually the overwhelming buzz that is the Edinburgh Fringe. In just 24 hours I'd met King Joffrey, seen a castle, learnt the word "kagool" (which I still think is better suited as a colloquial term for ones genitals e.g. "Careful you nearly hit me right in the Kagool!"), had a beer with some of my idols and seen some of the best comedians in the world live on stage.
And all this has happened because I've flown to the other side of the world to tell a bunch of strangers some jokes about almonds and Monopoly. Life is wonderfully silly.
---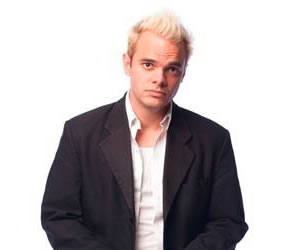 Michael Workman
'Here I am again' is an inappropriate way to begin this loose gathering of thoughts, because I am in many ways not here at all. My festival experience is an out-of-body experience for the most part. And while choruses of dead relatives beckon me toward what turn out to be stage lights, I am left wondering just why I chose to travel to the other side of the world, away from my home and loved ones, in order to immerse myself in a sea of flyerers as desperate and confused as I.
The truth is I don't know, and that has actually been very liberating. You see Edinburgh only has power over you if it knows you want something from it. If you come here with grand visions of fame and discovery, prepare to be destroyed. There are so many crushing defeats to be endured here, and all of them rest in the jaws of expectation. Every stress, every disappointment, every slow day, heckler, and empty venue hurts only as a result of a mistaken assumption that you will have your expectations met.
I have come to understand that only two things are guaranteed by this festival, and they are the most important and wonderful things a festival can guarantee, firstly, you will be a better comedian by the end, and secondly you will make lasting and stalwart friends of the highest calibre. Once I realised that, I felt pretty positive about the whole thing.
---
Michael and Tommy are performing stand-up at the Gilded Balloon in a show called Splitting the Bill. It's at 10:45pm. Listing
Michael is also performing a solo show in the afternoon called Mercy. It's on at The Gilded Balloon at 6:15pm. Listing