Mace & Burton add technology twist to flyers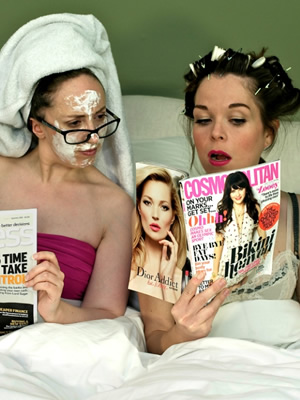 Every bin in Edinburgh is full of discarded flyers - and we're only a couple of days into the festival. There must be a whole forest missing somewhere. However, double-act Mace & Burton think they have come up with a clever way of getting people to hang on to their flyers...
The duo claim to be the first ever act at the Fringe to use Augmented Reality technology to promote their show. When viewed with a phone app called Aurasma (available on iPhones and Android), the printed flyers for their show Heartbreak Hotel transform into video, giving audiences a sneak preview of 'the laughter and tears to come'.
All festival goers needs to do to make this work is to hold their smartphone over one of the Heartbreak Hotel flyers with Aurasma turned on and the video of the pair in action will pop up. The augmented flyer also then provides fans with an easy way of 'liking' Mace & Burton on Facebook.
Lizzy Mace says: "Being able to add video to our show flyers has allowed us to give people a taste of what lies in store for them at Heartbreak Hotel. We ourselves have not been augmented."
Juliette Burton adds: "This year, I'm even more excited than usual about flyering at the Edinburgh Fringe. It'll be great to see how the audiences at the world's biggest arts festival react to this fusion of technology and comedy. We just hope Fringe-goers get as excited about the show as they will be about the flyers... I guess they could just sit and watch the flyer video for an hour, but we hope they come to see Heartbreak Hotel too!"
Tamara Roukaerts, from app makers Aurasma, comments: "Hilarious. Thought provoking. An absolute must-see. And that's just the flyers - think how good the show will be!"
Mace and Burton: Heartbreak Hotel - a show the duo describe as 'a cathartic comedy chatshow exploring heartbreak, heartache and heartwarming moments that make love worthwhile' - is on daily (except Tuesdays) at 7:30pm at Buffs Club, West Register Street. Listing